Estimated Reading Time:

11

Minutes
So, for those of you who know what I'm about to talk about, welcome to The Turf, where most of us work in the American Theatre, and most of us like sports. Thank you for existing, and being a very niche audience. We appreciate you.
Giselle Bundchen and her husband, Tom Brady, who is an actual GOAT, attended Hamilton this past week in Boston, where the touring company is currently stationed for another week. This was probably a nice break for Brady who last week got handed a loss by the Young, Scrappy and Hungry Tennessee Titans. (Get ready for the puns and references, you guys. You've been warned?)
Do you think that Tom Brady, a literal Patriot, enjoyed reliving the story of the original American Patriots?
You're damn right he did.
"Hamilton'? Oh, I love 'Hamilton.' Anyone who is [in Boston] should go see it. It was great in New York, and it was actually really good last night. I loved it."

Tom Brady, Son of God

Okay. First off, Tom Brady has seen Hamilton THREE TIMES, whereas I have yet to see it. So that both hurts my feelings and is remarkably understandable, considering I'm not Tom Brady. Also, shout out to Avery Sobczak, Jennifer Geller, Nick Cristopher, Sam Bagala and Patrick Fanning. Tom Brady said you guys are "actually really good" so like, have fun with the rest of your life because it doesn't get better than that.
Just kidding, it does, because you're in Hamilton.
Brady then kept talking and said something… interesting…
"I did tell my wife [that] one day I would love to just be on that show for, I don't know, a week. But I would need a lot of practice."

– Tom Brady, Ugg Wearer
…
Sit down, Tom. Someone ought to open up a window and air this idea out. I'm not sure how to feel about this one, you guys.
So I'm gonna break it down.
Could Tom Brady legitimately be in Hamilton? This is the question.
Training
Let's talk about his training. Where did Tom Brady go to school?
The University of Michigan.
My God. Not UMich.
UMich Alumni On Broadway in 2018:
Travis Ward-Osborne (Aladdin), Etai Benson (The Band's Visit), Pomme Koch (The Band's Visit), Madison Micucci (The Band's Visit), Alexander Gemignani (Carousel), Halli Toland (Carousel), Sam Lips (The Cher Show), Brian Spitulnik (Chicago), Alex Finke (Come From Away), De'Lon Grant (Come From Away), Jennifer Laura Thompson (Dear Evan Hansen), Ashley Blanchet (Frozen), Jeremy Davis (Frozen), Ryan Vasquez (Hamilton), Brian Flores (Head Over Heels), Christy Faber (Kinky Boots), Erika Henningsen (Mean Girls), Taylor Louderman (Mean Girls), Ashley Park (Mean Girls), Justin Lee Miller (My Fair Lady), Ximone Rose (Once On This Island), Isabelle McCalla (The Prom), Courtney Balan (The Prom), Lizzie Klemperer (School of Rock), L'ogan J'ones (SpongeBob SquarePants), Storm Lever (Summer: The Donna Summer Musical), Celia Keenan-Bolger (To Kill A Mockingbird), Britney Coleman (Tootsie), Shina Ann Morris (Tootsie), Hannah Shankman (Wicked).
… Jesus. Christ.
Tom went to one of the top Musical Theatre Schools of All-Time.
Wow. Maybe he could pull this off.
THE BREAKDOWN
Secondly, who would Tom want to play? If the answer is anyone but King George, he's wrong. Tom Brady is New England Royalty. Snag the "New" off of that title and you get "England Royalty." BOOM.
Also, Tom… Come on… it's 2018. Get with it.
So it's King George or Bust! Let's take a look at the breakdown for the show!
King George: Male, 30-49 – The King of England. Entitled, pouty nihilist. Sees the American Colonies as a deluded former lover, who will come crawling back. Rufus Wainwright meets King Herod in JCS; tenor, British accent; principal. ETHNICITY: Caucasian

via Backstage.com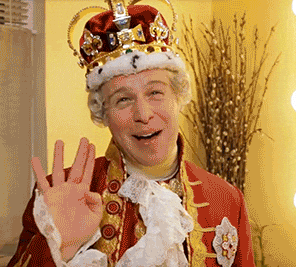 "King George: Male 30-49"
Tom Brady is male and is currently 41 years old, despite besting players almost half his age. Seriously, I know Tom wants Hamilton, but he seems to be more suited for Tuck Everlasting.
Tom is like Joe Hardy in Damn Yankees except when he turns back into an old dude at the end, he's still NASTY at baseball. And not to poke holes in Damn Yankees, but like what happens to the Washington Senators? Like, there's no doubt they're gonna hold a memorial and dedicate next season to Joe's memory. Like, that's gonna happen and he's just gonna sit there like nothing happened? How does he go on living?
Anyway…
Tom's still got 8 years to play King George before he's too old to do it. For those of you who don't know, a casting breakdown is a legally binding document.
"The King of England."
Legit just went over this. The King of England meets The King of NEW England. This means that Eli Manning is the King of New York, which makes him a Newsie, despite his lack of pirouettes at MetLife.
"Entitled, pouty nihilist."
Alright, so I had to look up the word "nihilist" because I went to theatre school and got a BFA in Acting (GO BOMBERS!). Classic BFA right there. Spells pirouette correctly on the first shot, but has to look up "Nihilist." WOOF.
Nihilist: A person who believes that life is meaningless and rejects all religious and moral principles.

The Dictionary
Have you ever seen Tom Brady after a receiver drops a pass? The look of disgust, anguish, and unbridled disappointment is something that'll make you toss 86 cents at your TV to sponsor Tom Brady and get him a bowl of rice. Seriously.
Look at that body shape. That's how someone sits when they believe that life is meaningless, and when they reject all religious and moral principles. So that's a solid check in the "Brady Can Do It" column.
"Sees the American Colonies as a deluded former lover, who will come crawling back."
So this bit is a touch wordy, but still remains something Tom definitely feels. I mean, most of the league HATES him. The NFL is comprised of coaches, players and entire teams who absolutely hate his guts.
In 2001, when Drew Bledsoe went down and Tom took up the mantle of Patriots QB, the rest of the league was on his side. Taking down the Greatest Show on Turf wasn't an easy task and the Rams were killing everyone and everything in their path.
Tom Brady was a late-round pick in the NFL draft and no one expected him to do big things. So when he was hoisting the Lombardi trophy, everyone wanted to be him, to have him on their team, to have him as their GOAT.
And then, much like British Imperialism, Tom decided to win everything.
The debate now isn't so much is Tom Brady the greatest quarterback of all-time, it's "Do I like Tom Brady or do I absolutely loath everything about this man who wears #12 for the New England Patriots?" You can't split the two. You either love Tom or you absolutely loathe Tom and wish nothing but terrible things upon him.
So this definitely is solid check in the "Brady Can Do It Column".
"Rufus Wainwright meets King Herod in JCS;"
Rufus Wainwright? Nah, Tom, that ain't you. Tom's got more of a Tom Waits kinda vibe, or a Daughtery feel. He's not giving you some easy listening tones, he's giving grunge and rock feelings all over the place.
King Herod? Nah, Tom, that's also ain't you. If there's one thing I know about Tom Brady, it's that he's not a King Herod. No. If anything he's a Regional Pilate or a Community Theater Simon Zealotes*. I mean, imagine his "Pilate's Dream." That would be astounding. But that leads us somewhere else…
*- Sidenote: I'm talking original score Simon Zealotes. Like the one that doesn't go above the edge of a baritone range. The easy one. The simple one. Not the Judas/Jesus Understudy one. Get real.
"Tenor"
LOL. No way. There's no way in hell. Tom Brady is not a tenor. Why? Have you heard Tom Brady talk? Or yell, for that case?
Tom Brady is belting like the lead singer of a Van Halen cover band, who's been going after it for a bit too long and is now sounding like current day David Lee Roth.
Tom Brady's years of poor vocal health and serious lack of vocal technique have definitely put this one out of reach for him. Sure, he can put a pass on a receiver's hands, but he's simply not putting that sound right into the mask. (There was definitely room for a facemask joke here, but I opted against it, but I do want some credit for it.)
No way. Tom's got nodes. We all know it. How?
You're welcome, World.
"British accent;"
Look, Tom has a personal health consultant, a PR team and a QB Coach. Can he spare the capital for a dialect coach? Yeah. Tom's also a big film guy, so if you put him in a room with Stanley Kubrick's Barry Lyndon and lock the door behind you, he'll come out sounding like a proper English Gent. No doubt.
"Principal."
Duh. Put this boy above the title. It's Tom Brady in Hamilton. All day. Love the move. White contracts only.
"ETHNICITY: Caucasian"
Yeah. This is 2018. Stay in your lane, Tommy Boy.
PERFORMANCE
Look, Tom Brady performs for 60 minutes each week, with a 20-minute intermission. I honestly don't think he would have the stamina to do eight shows a week.
That being said, I am in no way a professional athlete, nor am I inclined to call myself an athlete. I'm a two-time Broadway Show League All-Star for the Kinky Bats of Kinky Boots, but I'm not a 13-time time Pro Bowler. Tom's in better shape to do it than I am, and I have to do some of my work in 6-inch heels.
SPEAKING OF HEELS…
King George wears heels in the show because of course he does. Have you ever seen Tom Brady's ankles? Taped within an inch of their lives. There's no way he could walk in heels, navigate a turntable and negotiate stairs backstage.
That being said, I bet he could do it for a week if he really put his mind to it.
Let's ask Lin
Alright. That's a sound endorsement for both Brady and Karen Olivo.
So Can He Do It?
The thing I find the most interesting about all of this is that Tom just recently lost to the Tennessee Titans. Why is that important? Well, did you know that former Tennessee Titans star running back Eddie George made his Broadway debut in Chicago a few years ago? How about the fact that Michael Strahan made his in Kinky Boots?
Tom Brady doesn't look to beat you on the field, he's looking to beat you on the stage too. That's because Tom Brady is the GOAT.
MIKE TYSON DID A ONE MAN SHOW. TOM CAN DO IT, RIGHT?
Final Verdict: He's Tom Brady. He can do whatever he damn well he likes.
However, Tom Brady was never supposed win a Super Bowl, let alone 5. Tom's the GOAT. And Eddie George made his Broadway debut before me, so you never really know about these things, you guys.
Editor's Picks
To me, Rachel Nichols is the personification of posting a black square on Instagram.

We have become part of the problem, and aided in the the perpetuation of...