Estimated Reading Time:

12

Minutes
WWE SummerSlam saw legends return, a revamped Face-of-Fear debut and a new Universal Champion crowned. But WWE left a lot on the table, or a lot off the table, as a number of prominent stars were left off the show. Count Roman Reigns, Daniel Bryan, Shinsuke Nakamura, Drew McIntyre, and Samoa Joe were some of the superstars relegated to watch the second biggest show of the year from the press box. Could WWE still deliver a top show without those big names? Below we recap the main card and give our match grades for this year's SummerSlam. And we don't pull any punches spelling out our list of Winners and Losers at SummerSlam.
Raw Women's Championship: Becky Lynch (c)vs Natalya (submission match)
Natalya goes after the leg of Becky early and puts her in a Sharpshooter on the ropes, reinventing a classic. Becky targets the arm of Natalya in hopes of setting up for the Disarmer. The two go back and forth. Becky puts Natalya in a Sharpshooter, not to be out down by getting put in her own move, Natalya would soon respond with a Disarmer of her own on Lynch. After breaking out of a vicious Sharpshooter, Becky gets Natalya to tap to the Disarmer.
Winner: Becky Lynch
Grade: A
Reaction: Great way to open the show. Submission ruled the day in this match. Neither wrestler backed away from the stipulation. Natalya handled herself well in this match, giving her a boost even in defeat.
Goldberg vs Dolph Ziggler
I'll make this one quick…Dolph hits two superkicks, Goldberg hits Dolph with a spear, then a jackhammer. It's over in 1 min and 45 secs. Post match Ziggler gets on the mic and shouts some nonsense to Goldberg who comes back down and hits another Spear on the Showoff. The same thing happens a second time.
Winner: Goldberg
Grade: F
Reaction: This was pretty terrible. Goldberg is incapable of having a long match. He's got a 2 move set. No need to sacrifice Ziggler here. This should have been someone like Elias, and it should have been on the preshow. Ziggler should consider jumping ship a la Jon Moxley
United States Championship: AJ Syles (c) vs Ricochet
Ricochet comes out in a sweet Nightwing-inspired outfit. Styles was accompanied by his OC brothers. AJ goes after Ricochet's leg early on. Ricochet hits a one-legged flying elbow from the top rope. AJ goes on offense, continuing to pick apart an injured Ricochet, focusing on the injured leg. He puts him in the Calf Crusher, which is quickly countered into the Anaconda Vice. Ricochet climbs to the top rope and fights off the other members of the OC, but AJ catches him off the top rope and hits the Styles Clash. 1, 2, 3 winner and STILL United States Champion…
Winner: AJ Styles
Grade: C+
Reaction: I was very excited about this match. Not enough of an aerial assault as we are accustomed to from Ricochet. Both of these guys could have really wowed us with an amazing bout. This had match-of-the-year potential, but, in the end, it was a forgettable middle of the show match and nothing more.
Smackdown Women's Championship: Bayley (c) vs Ember Moon
Both of these wrestlers' athleticism were on display early. Bayley with a top rope superplex and inverted Boston Crab. Ember Moon, with a superkick, slows down Baley's momentum. Moon then, with a top rope Hurricanrana, almost scores the pinfall. Ember Moon catches Bayley off the top rope with a power bomb for another near fall. Ember goes to the top rope one last time, but Bayley is too quick and gets up and hits her with a 'Bayley-to-Belly' off the top rope to retain the Smackdown Women's championship.
Winner: Bayley
Grade: B
Reaction: These women put on a good match. The crowd seemed a little dead, but I thought it was good. I wouldn't mind seeing a return match between these two.
Kevin Owens vs Shane McMahon
KO said he would quit if he lost at SummerSlam. Before the match starts, Shane calls for the mic to tell the crowd that to ensure fairness there would be a special guest enforcer, Elias. Elias is there to distract KO and it's working. He successfully distracts the ref after KO hits a popup powerbomb on Shane. Later Shane begs KO to hit him with a chair that found its way into the ring. If he does his career is over. Kevin Owens argues with Elias, drawing Shane into a driving forearm that misses and hits Elias. Owens hits a top rope senton and top rope frog splash, but Elias pulls the ref out. KO wales on Elias with a chair. Back in the ring he hits a low blow on Shane while the official isn't looking, then the Stunner and KO wins.
Winner: Kevin Owens
Grade: D
Reaction: The only good thing about a Shane McMahon match is he usually jumps off of something ridiculously high or takes a tremendous amount of punishment, which he didn't do at SummerSlam. KO needs better booking than this.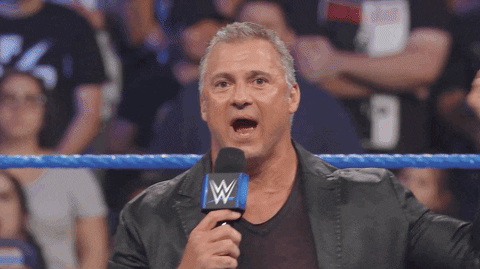 Charlotte Flair vs Trish Stratus
Trish sends Charlotte across the ring with a springboard Hurricanrana. Flair proceeds to beat up on Trish on the outside of the ring. Trish delivers a Ric Flair chop followed by a "Woo" to the crowd's delight. Trish counters Charlotte's offense and hits a another Hurricanrana off the top rope for a near fall. Charlotte nails Trish with a big boot for a 2-count. Trish puts Charlotte in the figure four, then turns it into the figure 8 trying to get Flair to tap out to her own move.
"This is awesome" chants from the crowd. Trish hits Stratusfaction for another near fall. Back and forth chops. The crowd is loving it, yelling "woo' with each chop. Stratus with a Chick Kick, and still can't score the pinfall. Charlotte gets her in the figure 8 in the middle of the ring and Trish Stratus has no choice but to tap. Trish gets a "thank you, Trish" chant from her hometown crowd as she salutes them.
Winner: Charlotte Flair
Grade: A-
Reaction: Great match. The crowd was into it from the very beginning. Trish Stratus has still got it. She sold all her bumps well. And the Queen Charlotte Flair proved she is still at the top of the Women's division.
WWE Championship: Kofi Kingston (c) vs Randy Orton
Kofi starts off fired up, and the crowd iss behind him 100%. Kofi hits a few high flying spots, then Orton works him on the outside for a while. The Viper seems set to keep this fight on the outside for as long as he can. Orton tries for a superplex from the top turnbuckle. Kofi counters into a swinging DDT. He gets some major air off the top rope and lands on Orton on the outside. Inside the ring, Kofi goes back up to the top rope with a flying cross body. Kofi goes off the top rope again and this time gets caught in a RKO 'from outta nowhere'. On the outside Randy stares down Kofi's family as he stalks Kingston and doesn't answer the referee's 10 count to a double DQ.
Winner: Kofi Kingston (by DQ)
Grade: C+
Reaction: Great match until the double DQ which drew "boos" and chants of "Bullshit" from the crowd. After the match, Kofi snaps and loses it on Orton, beating him down relentlessly and standing tall in the middle of the ring, but it does not appease the crowd who are still booing the finish. Why creative used SummerSlam as a stepping stone to another match between these two at a lesser PPV is lost on me.
Finn Balor vs 'the Fiend' Bray Wyatt
This is an interesting rebrand. Nowadays, with social media hashtags and every jerk with a laptop weighing in on the trivial minutiae of every wrestling storyline, you can't just give a well known wrestler a brand new gimmick once his old one fizzles out. I give you The Fiend, a monster that has infiltrated the man we once knew as Bray Wyatt. I'm here for it! WWE has always had trouble with the Bray Wyatt character; hopefully, they have found their footing with "The Fiend." The crowd is here for it too, with chants of "holy shit" after his dark, creepy and awesome entrance, which saw him carry his signature lantern seemingly made out of the old Bray Wyatt character's severed head. His mask and dreads make him look like he's moonlighting as drummer for Slipknot in his spare time.
During the match chants of "let him in" permeated through the crowd as The Fiend dominates the early going. Balor gains some offense and goes for the Coup de Gras, but The Fiend catches him with the mandible claw, and that was all she wrote for Finn Balor. After the match, the lights went out and a spotlight hits The Fiend. Laughter is heard and when the lights cut on the Fiend is gone, and Balor, left in the ring, is stunned as the crowd shouts "That was awesome."
Winner: The Fiend
Grade: A+
Reaction: Homerun WWE. The Fiend gimmick is amazing! The major downside here is that Finn Balor is reportedly taking a good amount of time off so it'll be awhile before we see Finn's alter ego 'the Demon' take on Bray's alter ego. But that gives time for The Fiend to go on a tear through the WWE until such a time as the Demon returns for revenge. The Fiend is fully over with the WWE Universe, though.
Universal Championship: Brock Lesnar (c) vs Seth Rollins
Brock starts the match targeting the injured ribs of Seth Rollins. Rollins hits a stomp and two superkicks, but can't capitalize. Lesnar hits an F5 and a slew of German suplexes. Lesnar throws Rollins around for about as long as it takes for me to go get a beer. Rollins regains some offense and hits two suicide dives to the outside, but gets caught and driven into the ring post on the third. Rollins fights back and hits a beauty of a frog splash from the top rope to the outside, driving Lesnar through a table. The crowd chants "Burn it down" as Seth his another frog splash in the ring. He calls for a superkick and starts to tune up the band, but Brock catches him. Seth counters into a third Stomp and pins Lesnar.
Winner AND NEEEEEEEEW Universal Champion: Seth Rollins.
Grade: B
Reaction: The grade here is all for Seth Rollins carrying the match. If anything, Brock Lesnar brought down the curve. He can't wrestle, plain and simple. He's just big and strong, and yes, he put over Rollins well here, but I'd much rather see Seth square off against a more athletic opponent. If you want to put Brock in a BS squash match to shut up the wise-ass guy character a la Goldberg and Dolph Ziggler earlier in the night, ok. But WWE would be wise to leave him out of the main-event picture moving forward. Give Seth a proper opponent now.
SummerSlam Summary
Overall it was a very average SummerSlam. It was indicative of the ratings drop we've seen from WWE over the past few months. The show hit on a few moments, but missed on others. Instead of the Miz v Dolph Ziggler, we get Goldberg and Ziggler. Instead of Seth Rollins vs Roman Reigns or Samoa Joe, we get Seth vs Lesnar again. I mean, Roman was on the SummerSlam poster, and a match with Daniel Bryant was teased, but left off the show.
Other top superstars were left off too. WWE's creative has too much on their plate right now and they don't seem to be jiving with the booking department. And because of that, the product is suffering. But there were some good moments to build on coming out of this SummerSlam, and that brings me to…
Hot Takes: Winners and Losers
Winner: Seth Rollins
He carried the match. Now hopefully some better booking is in store for the New Universal Champion.
Loser: The WWE Tag Team Division
Only the WWE Women's tag team championship was defended, and it was on the preshow.
Winner: The Women's Division
All three of the Women's matches on the main card were excellent
Loser: Kofi Kingston
The crowd did NOT like the double DQ finish. It was a shame, because the fans were behind Kofi for months, but bad booking can change everything. Hopefully, that is not the case here.
Winner: The Fiend
Fantastic debut for Bray Wyatt's new character. It got the biggest reaction of the night and stole the show.
Loser: The Intercontinental Championship
It was left off the show. At one time it was the number 2 title in the company. Perhaps WWE has a few too many belts in play. Shame to see this one take a backseat, though.
Winner: All Elite Wrestling
A new wrestling company set to debut a weekly show with a sold out PPV event of their own only weeks away. WWE needed to set the immediate bar a little higher for their new competition. They failed to do so at SummerSlam.
Editor's Picks
To me, Rachel Nichols is the personification of posting a black square on Instagram.

We have become part of the problem, and aided in the the perpetuation of...