Estimated Reading Time:

15

Minutes
We are rivals in a baseball team divided home and we both ferociously love our teams.
Tensions are high this week in my home, the teasing is less welcomed, the digs more hurtful, the death looks more common. My hubby and I have become a cliche or maybe a stellar idea for a new rom com, depending on how you look at. Regardless, we are two people deeply in love despite the very palpable hatred we're shooting in each other's direction. Wednesday when our hearts take the field in the Bronx it's unclear whether we'll be living in silent treatment land or trash talking fire and fury town. I'd be lying if I didn't ask myself why I couldn't have just fallen in love with a Yankees fan a few hundred times these past few weeks. Instead, I married a man who loathes my Yankees and loves to remind me of this.
I know we aren't the only couple walking the tightrope of reppin rival teams in their relationships, but when these rivalries come to a head in a one and done October wildcard game, it's the ultimate bummer. We are a baseball team divided home and we both ferociously love our teams.
Feuding in the fall means we both had a lot to be happy about during the sweaty sunshine months despite this less than ideal start to the post season. Still, October is my favorite sports month thanks to the NBA finally being back, the NFL off and rocking and MLB playoff magic transpiring. To be 3 days in to October and my baseball happiness dependent on killing my husband's playoff dreams is some kind of sports nightmare-is Gritty responsible for this? I just want to wrap myself in my Jeter blanket and wake up having to worry about facing a Boston series and my hubby refreshing NBA twitter smiling like a kid who gets to keep all their Halloween candy for themselves.
The greatest season of the year is upon us and arguably the greatest month-argued by me of course. Fall for me is a sports dominated season sprinkled with so many of my favorite things, like a stellar scotch(scotch in the fall just tastes better, trust me I've done extensive research), flannel shirts, cozy hoodies, the greatest seasonal beers(again a LOT of research verifies this), slow cooked chill and snuggling on the couch under a blanket devouring new fall TV. Which blanket I reach for is as second nature as your eyes closing when you sneeze. What blanket guests reach for could potentially start a feud. The two blankets draped on the back of our charcoal grey couch in the tv room are an extension of the two humans they keep warm. Year round they live in constant battle, a symbol of the baseball divide in my marriage.
If you hang at our Brooklyn apartment post dinner, game night or for any major televised event like the Super Bowl or Finale of The Bachelorette(yes in our house that's a major event), you will likely reach for one of them. I love it cold, cozying up under a blanket with a book or during writing time is my fave, no matter the month. It drives my hubby and closest friends crazy, but I love the feeling of a chilly home and needing a hoodie on to be comfy. But back to the topic at hand-our "post season battle armour"-these seemingly harmless snuggle buddies exist as a reminder that we are not on the same team all the time, or more specifically from Spring to Fall. That's half the year you may say and you would be right it is, nothing gets by you guys. Truthfully though, it's more like 162 to 182ish (if you're lucky) days a year where we reside as rivals. 
This fall as you sit down on our couch I would suggest you think long and hard when reaching for a blanket. Baseball tensions are increasingly high this year and we have the New York Yankees and Oakland A's to thank for that. Marital trash talk texting is in full swing.
When I first started dating my husband I honestly had a small panic attack when he told me he was an Oakland fan, but not because of baseball. I was worried I was falling for a Raiders fan and this Chiefs girl would have NOT handled that well. Lucky for our relationship he was an Athletics fan who came by his fandom very differently than I came to mine. When he played pee wee ball their team was the A's and so he started paying attention to them in MLB.
Growing up in Iowa he had no pro team to tie his youth and allegiance to, so the universe sending him the A's during the Bash Brothers era seemed meant to be.
I remember telling my 20 year old self, at least he's not a Red Sox Fan. 
Me on the other hand, I was born in to my fandom. Sure growing up in KC I had George Brett, Bo Jackson, Brett Saberhagen and a World Series Win in my early years, but my Mom's heart beat for the New York Yankees and my heart beat for her.
It also doesn't hurt to have the legacy and legendary players when courting a team to your impressionable and competitive child. I want to win. Always. It's equally as attractive and unattractive of a trait when it rears it's sometimes ugly head. Have you ever played rummikub with me, well let's get real, any game for that matter? My point is, for a young girl who was and still is obsessed with winning, watching your Mom's  blue eyes sparkle as she talks to you about the win addicted Yankees and that time she met Mickey Mantle, it's a full on wrap. No other team is sliding in there. Case closed.
Ironically, days after our first kiss, right in the start of our official relationship, my Yankees and his A's played in the 2001 AL Division series and well, most baseball fans know how that played out. I could just say "flip play" and be done with it. My boys beat his in an electric and tight series and advanced on their road to the World Series. He still doesn't want to talk about it and I LOVE bringing it up. 50 bucks says he won't even click those links, it's too painful. Looking back he must have really been in to me, because that's a lot to endure. Add insult to injury when the woman holding your affections is devastated when her team lost the Series that year and couldn't add a 4th consecutive win to their ring collection. I'm incorrigible now, I'm sure 20 year old Sydney was a full on nightmare.
When we moved to NYC in 2003 thus began our annual masochist summit at Yankee Stadium.
When we initially decided we had to go watch the NYY OAK series yearly I don't think we realized how much fun it actually wouldn't be. Years later we invoked "time out" years and I conceded to go watch his boys play at Shea and Citifield, because even Yankees fans can show mercy to the ones they love. Of course there were years scattered between the 15 we've been celebrating our dissonance where nothing was really at stake and we were more freely sharing beers and laughter watching our teams battle. Winner still had bragging rights of course, but the loser knew the race for the pennant wouldn't be crushed by our favorite person's team. Those years were some of the best.
I must confess, I do sincerely want my husband to see his team reach the pinnacle of baseball. I'm not a monster. Shhhh it's a secret.
I do though. Fiercely. I just don't want my team to lose in order for that to happen. And no that's not shitty, that's simply fandom! I didn't always feel this way either, see I'm evolving. I even posed for this photo once in Oakland….
It wasn't until I finally surprised my hubby and took him to The Coliseum. It was there listening to the Oakland drums and seeing the childlike joy on his face that the shift happened. He deserves to live the magic of seeing his team win a ring. I also gained tremendous respect for their fans. The Raiders/Athletics park was half full at best for the first game of the season and it was rockin like a win or go home playoff game. Props to those A's fans. 
I've even been known to root for his A's when it doesn't affect my pinstripes. What's the saying, love makes you do crazy things?!
So here we are, the dreaded SINGLE GAME WILDCARD ELIMINATION, which at least we both agree is the absolute worst.
Baseball is meant to be played in a series, but the single elimination is true drama and this Wednesday will be one for the books, especially for us. My better half insists we don't stand a chance and this past Sunday when he said that, he was rewarded with a punch to the gut (a lovingly punch to the gut). Home field advantage may be debated by A's fans since they have won an impressive 47 games on the road. On the flip side, my Yankees were 53-28 in the Bronx this season. You couple that with the environment NY fans create here at home in playoff situations and I'll definitely count playing here in the Bronx as a major advantage for my boys.
And let's talk about my boys. We're healthy again. *insert my happy dance here* I'm even more optimistic regarding Gregorius (torn cartilage in his right wrist) and Hicks (strained hamstring) who returned to the lineup on Friday to hit a three-run homer and a single. Welcome Back Boys! I have limitless, obscene faith in our sluggers and the momentum building from these eight wins in our last 11 games.
Our team's meetings this season have yielded winning series for both home teams taking 2 games a piece back in the Bronx in May and Oakland last month. So we both know how to beat each other at home and on the road, although both teams have faired better in front of their hometown fans. There's that home field advantage again that people still seem to think doesn't matter. My WildCard game nightmare will also have two of the top three home run-hitting teams in the majors.
We've met 3 times in the postseason and every time my boys have advanced. The Yankees swept Oakland in the 1981 ALCS and won Division Series in five games in 2000 and '01. We've gone on to the World Series every time we've met the A's in the playoffs and in 2000 we have the ring too. So when my Hubby insists that my boys don't stand a chance I keep my mouth sealed because the history for him is too painful. Like I said earlier, I'm not a monster. But I am a reminder. He's married to a walking reminder of some of his favorite team's most painful memories.
Yes, I married a man who hates the Yankees and I mean viscerally hates us. I have been lucky enough to call the city of my favorite team home for 15 years. I can recall the first time I stepped in to The Cathedral, the way the air smelled, the hairs on my arms stood at attention and my eyes glistened with tears. I can remember the way I felt stepping on to the grass the last day a game was ever played there. My mom never looked more youthful and carefree. I had flown her out so we could experience it together. If I could relive a day in my life that one would surely be up there. Her first game at The Cathedral was the last there ever was. Tearing it down was criminal and I HATE the new park, but that's a chat for another day.
I remember standing with tears in my eyes the last time Enter Sandman blasted in the Bronx and Mo let the mound's dirt run through his fingers. The last at bat Jeter ever had I was screaming so loudly and jumping so highly I'm not sure I've ever felt that kind of emotion at a sporting event. So many moments weaved in to who I am as a woman and a sports fan and yet, my husband hates my team. How can something that has given me so much joy given him so much anger and heartbreak? Ah baseball, you tricky unicorn.
This isn't one of those times nothing is at stake.
So as Hump Day brings joy to millions of baseball fans this week, it will bring us anxiety, stress and romanticized hope. We will make a game time decision about where we watch the battle unfold, not wanting the other to experience the heartbreak, but knowing one of us unavoidably will. The blankets on our couch will serve as battle armor this week. His, a fluffier thicker armor and reminder of his first trip to Oakland to see his childhood team play live for the first time. Mine, a thiner amour, soft like a second skin and reminder of Jeter's last season and the highs and lows of being a partial season ticket holder in my favorites final year to don the stripes. If the last series we met is any indication, we are in for a wild mix of emotions.
It feels good to be feuding in the fall, it means our teams matter and we have hope for the elusive baseball magic that only happens in October and November. My wish this post season is for one of us to feel like a kid again, filled with pride and overwhelming joy as our team rushes the field in victory.
I know it's one of the reasons everyone hates us Yankee fans, but it's been 9 years and I want the feeling again. I crave it. I'll always want it. You play every year to win it all. Period. If you aren't doing that, you're doing it wrong. Hate me all you want, you just may have to get on line behind my husband. You won't be able to miss him, he'll be decked in green and yellow with an elephant on his hat reminding me that I'm the worst. Thank You Baseball Gods for this beautiful feud and fall baseball. At least basketball season is back in business, after this post season it'll feel good to be on the same side again.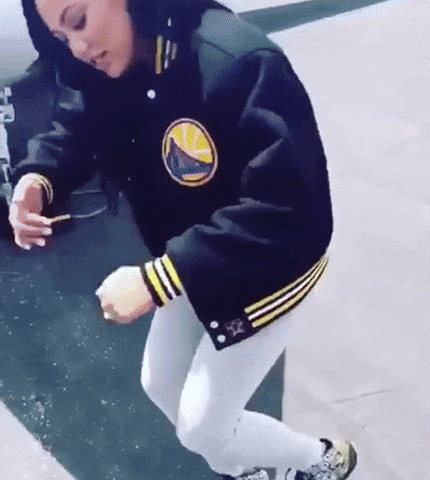 Editor's Picks
To me, Rachel Nichols is the personification of posting a black square on Instagram.

We have become part of the problem, and aided in the the perpetuation of...