Estimated Reading Time:

4

Minutes
The other night I was at a bar watching basketball. The Lakers game was on and I was watching this player taking over the floor with surprising ease. I asked the bar patron next to me who that was, and he responded, "Oh, that's Kyle Kuzma. He's the next Kareem." Now that is a bold statement, but one I am 100% here for. So I started doing some research. I'm not ready yet to call him the next "Tower from Power" but I am ready to give him one accolade, Kyle Kuzma is bringing back the Hook Shot.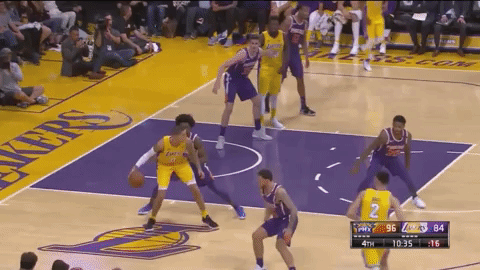 When I was a kid, I played a lot of pickup basketball. There weren't that many of us, so we had lots of different game variants depending on how many people showed up. In middle school, I was tall for my age. I was also a fantastic defender but really bad at offense. So I was often put down low for easy layup purposes. I'd receive the ball, take a couple power dribbles, and then post up and call "sky hook!" or "Kareem!" before turning away and unleashing the signature shot. I loved the hook shot.
Perhaps the last true center that I remember utilizing a consistent hook shot was Shaquille O'Neill, whose baby hook was a thing of beauty. The shot is practically impossible to defend without fouling, and so if you are accurate at the shot, it's probably going in. Shaq and Kareem Abdul-Jabbar are both in the top 15 players by Field Goal Percentage in the NBA, and the hook shot has much to do with that.
Where did the Hook Shot go?
When asked in 2017, the Tower of Power had a theory as to his signature shot's disappearance.
"I think it has to do with the way they are teaching the game. They are not teaching kids how to post up. Everyone wants to shoot 3-pointers. It should be part of every [big man's] game. It's not."
Watching the NBA this season, I see his point. With the emergence of the triple threat hybrid point guard, the need for a high percentage center or power forward has lessened. They've become rebounders who kick it out to a waiting 3 point shot. In a study by two Slovenian professors, they determined that in the NBA, the technique of the center was disappearing, and with it, the hook shot. It still, however has great predominance in European leagues. In fact, they go so far as to say that "Those that still utilize the shot in the NBA are typically European centres playing in the NBA (for example, Marc Gasol)." [link added by The Turf]
Kuzma is threatening to change all that. A power forward with a strong first dribble, a fantastic ability to back down an opponent, and a spin move to a hook shot that's proving to be unstoppable. Plus, unlike Shaq, Kuzma can move. His ball handling skills are fantastic, and he can hit shots both from the post position, and on the run.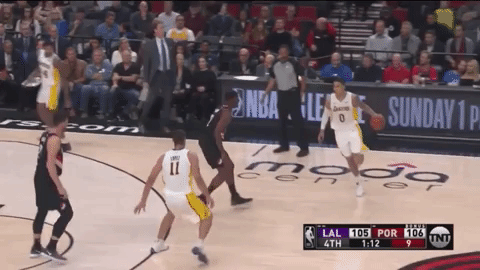 Kyle Kuzma – the future
This season, due to a combination of talent and a braggadocios family, rookie Lonzo Ball has received all the attention. Basketball pundits, however, have started looking to Kuzma as the future of the Lakers. It's rare these days for a team to be built around the power forward position, but Kuzma brings the goods. Just look at the above example, where he starts with the ball on the outside. He has the ability to shoot from anywhere, and the ability to get down low.
When a big man starts exploiting the hook shot? The inevitable happens, he gets fouled. Kuzma is shooting just under 75% from the free throw line this season, that's going to be good for an extra 6-8 points as his career progresses and teams start taking him more seriously. Imagine if he shot his free throws underhand. But that's a different article.
What comes now?
I'm a big believer that the game of the youth follows that of their idols. In the age of Kobe Bryant, Allen Iverson, Paul Pierce, and Vince Carter, the hook shot lost its acclaim in exchange for the dunk. The dunk is flashier and makes better posters to be sure. But we're reaching a critical mass when it comes to dunking. Everyone in the league can do it, and defenders are much better at using the backboard to block them now. So players are looking for new techniques to gain an edge over their opponents. Here comes the hook.
As Kuzma's star continues to rise, young Lakers fans will start to emulate him. Look for more high school and college stars utilizing the hook shot and its high percentage outcomes, and bring the hook back into the game. The NBA has been sorely missing the game of truly good big men down low, and while Kuzma is a hybrid power forward, he can be the harbinger of change. So that when kids are playing pickup basketball, they might just start calling "Kuzma" before unleashing his signature shot.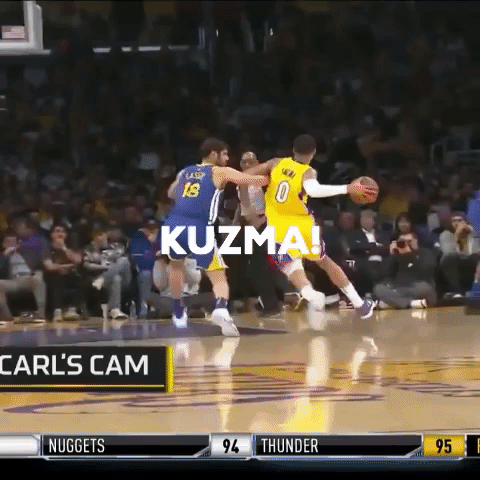 Editor's Picks
To me, Rachel Nichols is the personification of posting a black square on Instagram.

We have become part of the problem, and aided in the the perpetuation of...