Estimated Reading Time:

7

Minutes
A couple days ago I wrote a sleep deprived rant about the quest for hot takes in the lead up to the Super Bowl. I thought the combination of Astrology, and saying that Nick Foles would air it out more than Tom Brady was enough. Hell, I thought I knew what a hot take was.
I was so very, very wrong.
Enter Philadelphia sports beat writer Bob Brookover.
You may remember him as the man who wrote an article called "Risk and price too high for Markelle Fultz". An interesting perspective to be sure, given that trading for the #1 overall pick is a huge risk in and of itself. There's really just one problem with the article at hand. It opens with this caveat:
I confess that I have never seen Markelle Fultz play a basketball game and I was not at his 76ers workout Saturday in Camden.
The dude made a hot take judgment while admitting he had quite literally no ground to stand on. He has hot take balls of steel. Since pretty much every pundit was grading Fultz as the #1 draft pick, it's hard to take this entire article seriously. How seriously was it taken? Markelle Fultz literally laughed out loud while reading it.
But back to Football
So I think we can establish that Bob Brookover likes to write articles that ruffle feathers, cause a firestorm, and net Philly.com some extra marketing clicks. Okay, point taken. A good hot take can be worth its weight in gold. Hell we here at The Turf have a writer who dedicates himself to a weekly hot takes segment. But what Andrew Wilhelm and I never knew about hot takes, is that Bob Brookover might just be the master. Check this headline.
"Maybe it's no coincidence that Aaron Hernandez tragedy happened to Patriots."
Woof. I feel like I have a fever. Just copying and pasting those words might send me to the hospital. Let's take a second to appreciate the beauty of that hot take. You know what? I think we need to see it again. Maybe it'll be better with a repeat viewing.
"Maybe it's no coincidence that Aaron Hernandez tragedy happened to Patriots."
NOPE. Not better. Man, putting it in block quotes fixed nothing here. WHO APPROVED THIS HEADLINE? Someone who legitimately cackled and rubbed their hands together with glee over the click bait. So I think we need to dive into the article. Shall we?
Let's start at the very beginning
Brookover starts by celebrating the record setting and unprecedented period of success by the Patriots in the salary cap era. The whole thing feels tinged with an unexplored "but", however.
In addition to being adept at winning games and championships, the Patriots are also great at avoiding the things they want swept out of sight.
Whoops, there it is. The hot take is in. Alright we're off to the races.
Saddle up
Spygate and Deflategate fall into those categories, but the one subject they want to skirt more than any other is the violent and tragic career of the late Aaron Hernandez. Perhaps that's because Hernandez's draft selection, despite bright red flags everywhere, is a reflection of how winning means everything to the Patriots and no cost is too high.
WHAM. BAM. THANK YOU, MA'AM. That is a two sentence one-two punch! I mean he is here to give voice to the angry anti-Patriots fans, AND bring a new perspective to the conversation. Go get 'em, Bob. All it really seems that you're missing is an oddly constructed paragraph trying to make a nonsensical implication regarding Patriots Super Bowl success and Aaron Hernandez's tragic timeline.
This is the Patriots' fourth Super Bowl appearance in seven years with the first coming in 2011 when they lost, 21-17, to the New York Giants in Indianapolis. Hernandez, a fourth-round draft pick in 2010, was the Patriots' leading receiver in that game with eight catches for 67 yards and a touchdown. It would be his last Super Bowl and this will be the Patriots' first Super Bowl since Hernandez committed suicide by hanging himself with a bed sheet inside a Massachusetts prison cell in April.
Oh.
Okay, so no one can or should dispute any of the facts here. Its intended implications, though? Pure conjecture. It is written in such a way as to make the reader think that Hernandez's timeline in regards to the Patriots' Super Bowl timelines since 2011 is somehow shady. That they are somehow connected. When nothing in the hot take-a-thon is ACTUALLY linked. You'll note that he says that this is the fourth Super bowl appearance, and then gracefully skips over the two in the middle to tie this current one to Aaron Hernandez's suicide. Classy.
Shame. Shame. Shame.
The shame of the matter is that the Patriots, and specifically coach Bill Belichick, acted as if they could not possibly know something so awful would ever happen despite the fact that Hernandez had a troubled past at the University of Florida and in his hometown of Bristol, Conn.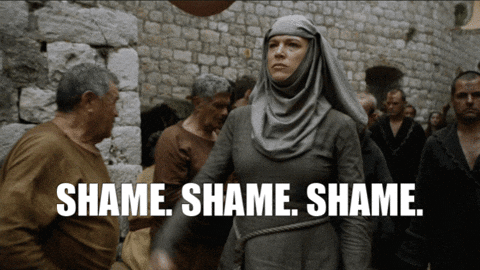 I don't watch Game of Thrones [Author's Note: I just heard the pained screams of our readers all cry out at once] but I know enough people who do to know this reference. This is what I hear Bookover calling up with this sentence. Look. No one is defending Aaron Hernandez here, but to put Hernandez's crime on the Patriots "and specifically coach Bill Belichick" is just…well as hot takes go, it's a doozy.
Aaron Hernandez is hardly the first NFL draft pick with a checkered past or ties to gang-related activities. Some of it is true, some of it is conjecture, all of it is weighed when drafting a player. A player's off-field activities often lead to a draft day slide. Hernandez in the fourth round is a great indicator of that, though most people attributed that at the time to his history of failed drug tests. All that the scout reports that are available from then make mention of his mental immaturity. The problems with his friend circle were never mentioned until he was arrested. If people knew this was coming in the scout process, why didn't it get recorded?
What's the point?
While reading this article I became increasingly aware of a question in my mind. "Why?" Like…why is this the article you're writing? What is the purpose? Is there a bombshell you're going to drop about a scouting report that says "is an active gang member"? What is the specific thesis of this article?
What Hernandez did was horrible, but you get the feeling the only reason Meyer and the Patriots cared about him in the first place was because he could play football.

Once he no longer could help them, it became a sin to even speak the name Aaron Hernandez. Maybe it's not a coincidence that the NFL team that has had the most success in this century also had to deal with the league's greatest tragedy.
Ah. There it is. Never mind the work any of these organizations put into giving him off-field mentors and working to better his life. We can throw that out the window. The implication to this last sentence really bothers me, however. It is implying through no real substance that the Patriots are somehow to blame for Hernandez's crimes. Or it's implying that that if this was going to happen it could only happen to the Patriots. We also don't need to touch the opinion that this is the league's greatest tragedy, I'll just say that I would debate that thought.
Seriously to say that without even acknowledging Jovan Belcher feels like a serious misstep.
What does it all mean?
NOTHING.
That is what we can take away from this hot take to beat all hot takes. He lists a bunch of facts:
Aaron Hernandez grew up in troubled, worrisome circumstances.
He went to Florida to play football under Urban Meyer.
There were red flags on his scouting report. (Which most people attribute to marijuana use)
He fell to the fourth round because of those red flags.
He played in a Super Bowl with the Patriots.
He was arrested for the murder of Lloyd Odin.
The Patriots released him immediately upon his arrest.
He committed suicide while in Prison.
This is the first Super Bowl the Patriots have played in since his suicide.
CBS did a mini documentary on Aaron Hernandez.
From this list of facts, he expects us to lay Aaron Hernandez's crimes at the feet of (as quoted before) "the Patriots, and specifically Bill Belichick". Get outta here. Next we'll blame the Atlanta Falcons for Michael Vick's dogfighting ring. The Miami Dolphins for Cecil Collins' burglary. The Los Angeles Rams for Darryl Henley's drug trafficking. But we don't do that, because that would be ridiculous.
Right?
Editor's Picks
To me, Rachel Nichols is the personification of posting a black square on Instagram.

We have become part of the problem, and aided in the the perpetuation of...