Estimated Reading Time:

5

Minutes
"In Bill We Trust."
That's the motto Patriot fans proclaim anytime the coach, Bill Belichick makes personnel moves which, at first glance, don't make much sense. Throughout his tenure in New England, Belichick has drafted players in the first few rounds that no other team even had on their radar. He has unexpectedly released or traded veterans loved by the fans. He has frequently left "Patriot Nation" stunned and confused. Walk by a water cooler in a New England office and you often hear "What the hell is he doing?" (About 95% it's about Belichick. The other 5% is about the millennial intern they just hired.)
But at the end of those of conversations, instead of the prospect of an uprising or revolt against Belichick, there's a sense of trust. For the most part, Belichick has been spot on, especially when it comes to getting rid of players the fans love. Players like Matt Light, Ty Law, Richard Seymour were let go at the right time. Their careers dwindled after they left the Patriots.
Amongst all this madness, Belichick has led his team to 7 Super Bowls, winning 5 of them. They've won 15 AFC East Division Titles. The Patriots are favorites (again) to represent the AFC in the Super Bowl come Februray. Regardless of the personnel, Belichick gets his team to win.
But this has been with the greatest quarterback to play in the history of the NFL. You can afford to take risks, when the team is led by Tom Brady. As seen throughout the NFL this year, the difference between a great team and a terrible team is the skill of the quarterback.
Don't believe me?
Look at the San Francisco 49ers after they received Jimmy Garoppolo from the Patriots. The 49ers were 1-10 before the trade. There only win coming against an abysmal New York Giants team. They were poised to be the 2nd worst team in the NFL and have a high draft pick in the 2018 draft.
Then came Jimmy G.
Garoppolo, in 5 starts, won 5 games, leading the 49ers to a final record of 6-10. During those 5 wins, Garoppolo threw for 1,560 yards and 7 touchdowns with a passer rating of 96.2. He led a final drive comeback against the Titans (playoff team) and lit up the #1 scoring defense in the Jacksonville Jaguars (also a playoff team.)
Actually, he beat 3 playoff teams, finishing the year with a win against a St. Louis (I mean LA) Rams team who sat most of their stars.
So who is Jimmy G?
Jimmy Garoppolo was drafted by the Patriots with the 62nd pick of the 2014 draft. The move came as a surprise because not only did Belichick use a high pick on a player a majority of Patriot fans didn't know, but it was a quarterback a majority of Patriots fans didn't know. For a better part of two decades now, the one position that the Patriots didn't need to worry about was at quarterback. After all, they have this guy…
Many fans, including myself, felt the team had wasted a pick on a player that will never see the field. Yet we all collectively said "In Bill We Trust." Belichick proved to be brilliant by drafting Garoppolo. After he joined the team, the Patriots won two Super Bowls in '15 and '17. While Brady was suspended for the first 4 games of the 2016-2017 season, Garoppolo threw for 502 yards and 4 touchdowns with a 113.3 passer rating. The Patriots won both games Garoppolo started before Garoppolo was sidelined with a shoulder injury.
But it wasn't just the on the field play that helped the Patriots. Many insiders believe Garoppolo lit a fire under Brady and the competition between the two in practice translated to unbelievable play by Brady on Sundays. Many coaches credited Garoppolo with helping the defense prepare for Russell Wilson in the 2015 Super Bowl. Slowly but surely, Garoppolo was being prepped to take over for Brady once Brady retired and Patriot fans were excited.
Then came October 30th, 2017, when Garoppolo was traded to the San Francisco 49ers for a 2nd round pick in the upcoming 2018 draft.
Why?
Well, Garoppolo's contract was expiring at the end of the year. There was reason to believe teams were going to offer franchise quarterback type money to the 26-year old. Belichick wasn't about to pay that much for someone riding the bench, which make sense. What doesn't make sense is who they got rid of and what they got for it.
Why can Patriot fans no longer trust Belichick?
As blasphemous as this may sound, Garoppolo wasn't the quarterback the Patriots should've let go this year. It should've been this guy…
At 40, Tom Brady is the oldest player in the NFL. Rarely do any athletes make it to this age in any sport, let alone the most physical one. Typically at this time in their careers, athletes are on their way out, being replaced by younger, newer, more athletic versions. Garoppolo was that version to Brady. Though the sample is small, Garoppolo has shown he possesses similar qualities to Brady. He stands tall in the pocket, shows patience at the line, and is able to lead game-winning drives. Watching this video, you might think they were the same guy…
Yes, Brady has defied all odds this year and has looked exceptionally good in some cases, breaking records amongst quarterbacks his age. But we can't expect this trend to continue. As much as we want the GOAT to be our quarterback, we can't stop the inevitable decline of Brady from happening. In some ways, it's already happening. Garoppolo outplayed Brady since starting for the 49ers. Again, don't believe me? Check this out…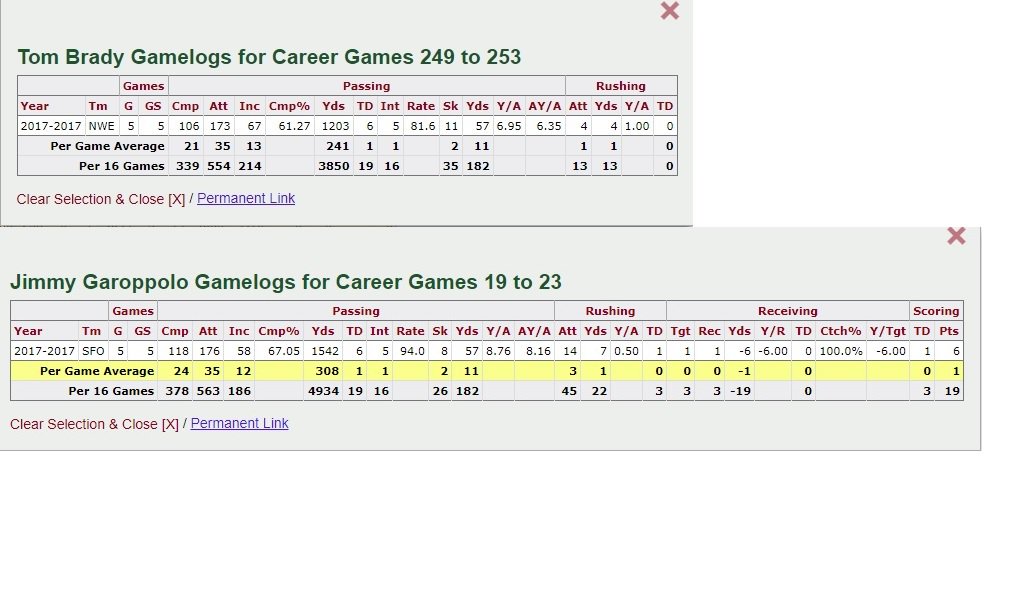 …and he did that with a wide receiving core not nearly as talented as the one in Foxboro.
In his early career, Garoppolo has shown he is talented and a winner. That combination, along with learning from the best to ever play the quarterback position, makes it hard to trust Bill on this move. If Garoppolo has just an ounce of the work ethic Brady possesses, he's going to be a top tier quarterback. Belichick traded away a potential franchise quarterback for essentially nothing. (He will most likely draft a defensive back from Rutgers with that pick.) All so Brady could retire as a Patriot.
But what happens after that?
Belichick and the Patriots have created a culture of winning. Patriots Nation is upset with anything less than domination. In order to win in the NFL, you need to have a stud quarterback. Belichick, out of all the coaches, should know this best, which makes it hard to trust this move. It is highly possible that in 10 years, the conservation around those water coolers in New England will be of disappointment and regret, as we all realize we could no longer live with the motto "In Bill We Trust."
Editor's Picks
To me, Rachel Nichols is the personification of posting a black square on Instagram.

We have become part of the problem, and aided in the the perpetuation of...