Estimated Reading Time:

9

Minutes
Chiefs fans woke up Saturday morning hoping for the 25-year playoff curse to be broken. They also woke up to a winter wonderland; anxious from the jump and now additionally obsessing over the conditions. Arrowhead, one of my most favorite places, was a textbook sea of red. The drum banged, the roars were rocking and the legendary decibels were way up, I could feel the vibrations from "the chop" in my soul.
Fans' hopes were teetering, begging, pleading, bargaining for the dreaded Chiefs postseason and playoff nightmares to be soothed back to peaceful slumber.
The question was, could Showtime
Mahomes

lead the Chiefs and some of the NFL's thirstiest fans out of this playoff trap?

Turns out HELL YEAH HE CAN, with the help of a ferocious defensive performance and a talented team fighting with every play to get us over the hump.
The season started with a myriad of questions. The loudest being, is Patrick Mahomes ready? Is he the real deal? Could he finally be the franchise QB the Kansas City has been dreaming of?
After a regular season 12 wins, 50 TD's (the second player in NFL history to put up those numbers with an impressive 5000 yards), the 23 year old Texan IS in fact the real deal and YES Chiefs fans would follow him just about anywhere. I mean he throws the ball with both arms and doesn't even need to look at his receiver to complete a pass?
I'm not convinced I haven't been watching a video game simulation all season.
Admit it, you'd be pretty stoked if he was your team's new young gun slinger?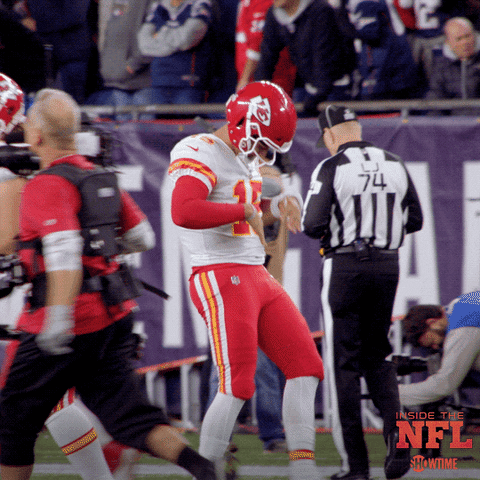 However, despite everyone Rolling With Mahomies, if you ask a Chiefs fan how they felt going in to Saturday's game, you'd get a lot of, nervous af's exclamations and even some can we even win a playoff game questions. The followup would be, but you have home field advantage, playing at the loudest NFL stadium gives you a major leg up. Well, you would be wrong.
The last time we won a playoff game at home was the 1994 Wild Card game against the Steelers.
KC won 27-24 in OT thanks to a 32 yard FG by Nick Lowery. I was eating pizza rolls and screaming at the TV in sheer elated disbelief; the Montana years stir up a lot of mixed emotions. That was 25 years ago.Twenty-Five years ago.
We went on that year to clinch the division beating the Houston Oilers 28-20 to then embarrassingly lose 30-13 in the conference championship to the Bills. Sadly that's the closest my Chiefs have ever come to the big dance in my lifetime. *prior to '94 the Chiefs made it to the Conference Championship in December of '69 and we went on to win the Super Bowl Jan 11th, 1970.
In fact, it wasn't until 2016 when we beat the Texans in the Wildcard match up that we had even won a post season game in 22 years period. So yeah, having home field advantage in the playoffs doesn't conjure up warm fuzzies and optimism like it would for most fans.
Plus, fans were battling the fact that our road to the Super Bowl and breaking the curse had to go through the Colts. This particular point stirs straight up PTSD for me. Post Traumatic Sports Disorder.
I'm sure I'm not the only Chiefs fan who has vomit inducing memories from the last time we met the Colts in the post season.
Chiefs fan can't forget Jan 4th 2014. The Chiefs played Indy and shattered fans' hearts across the country. They blew a massive lead and a collective fandom sighed audibly, "I've seen this movie before." I will never forget that game as I was slinging drinks in Hell's Kitchen NYC.
An Indy fan left at the half ignoring my, this game has a whole second half of football banter. As a lifelong Chiefs fan I was clearly nervous despite the score; knowing we had a deeply rooted history of blowing it. I won't rehash what happened, we all know.
What you don't know, is that grown man Indy fan made a point to come back to the bar after the game had ended, just to rub it in my face. So yeah, to say waking up on game day knowing we were facing Luck and the Colts again was not my favorite would be putting it lightly.
However, after Damien Williams 1st TD, I immediately exclaimed, "We're winning this game!" as if all my memories and knowledge had been magically MIB'd away. Then, when Cheetah sprinted into the end zone for our 2nd TD I was really struggling to manage my expectations. A Chiefs fan is always juggling our pure fandom optimism and franchise history watching playoff games. It's truly a rollercoaster.
I read a lot of arguments for a Colts win circling around the idea of this being
Mahomes

first playoff game.

In fact, fellow Turf writer, Matt Branigan, agreed that it would be a disadvantage for Kansas City. I couldn't be further on the other side of the spectrum regarding this argument.

Watching Pat all year has taught me this young man has the poise and tenacity to lead a team in the playoffs, whether it was his first at-bat or 5th. It didn't take long for me to see him reminding fans of the ice in his veins. He was calm, cool and fire right out of the gate.

To put it bluntly, at the end of the 1st quarter, 14-0, I didn't see a QB who wasn't ready for the pressure. Heck, I didn't even see a defensive sans Eric Berry that had me terrified they'd blow it; they were hungry and ferocious.
I saw a Kansas City team eager to make franchise history.
Then at the top of the second quarter my heart stopped. Mahomes went down, his knee landing on a defenders helmet and got up limping. I'm pretty sure I held my breath until we kicked the FG and the game went to commercial break. Thankfully that nightmare was put to bed when Mahomes took the field again with his usual swag.
Unfortunately, a new nightmare emerged when a punt block converted into an Indy TD and suddenly it was 17-7. As an irrational Chiefs fan, I'd prefer if the Colts scored a big fat zero. Then I'm less likely to have a coronary. Luckily, I was given another burst of sheer hopeful adrenaline. Showtime ran the ball in for a TD with 1:40 left in the first half. This leader lights KC hearts on fire.
Indy answered by marching down the field. In shocking fashion, the Chiefs D held them to a FG attempt. Then uncharacteristically, Vinatieri doinked it and we were headed to the half.
Painfully, history has shown Chiefs fans that it doesn't matter how much they're up at the half.
That is why during the first commercial break my husband turned to me asking, "Shouldn't the game be over? It isn't fair that there's another half!". He's only been a fan for 2 seasons and he's already living the struggle. We should have been relishing in the glory of the D's shockingly aggressive performance in the first half.
Instead we were frantically scrolling twitter and willing ourselves to not be too optimistic. Squashing 30 something years of unease watching Chiefs football doesn't come easily.
The second half kicked off with
Mahomes

bullets and a two scoreless possessions from both offenses.

Justin Houston fought triumphantly for his second sack of the game at the end of the third quarter. I was feeling cautiously fired up.

Dee Ford's season success kept rolling when he forced a turnover at the end of the third. He set Mahomes up with stellar field position to start the final quarter. Frustratingly for Kansas City the stellar defensive play didn't result in the widening of their lead. The defense kept grinding. We successfully continued to stop Indy right when the nerves were starting to boil back up for Chiefs fans. Pushups on the field brought beaming smiles and there was a silent tiger growling within me; like Tom Hanks's character at the end of A League Of Their Own.
As Luck drove down the field with 6:48 in the game my heart was racing and my stomach was in knots. We needed a stop and instead we got a touchdown. Cue severe side pains and nausea. Then as if the universe heard my cries, Vinatieri misses yet again.
With under 4 minutes left luck kept coming KC's way after a roughing the kicker call gives the Chiefs the ball back. Darrel Williams takes this opportunity and literally runs with it, all the way in to the end zone.
Was it just me or did it look like
Mahomes

was smiling as he added to the pack pushing and willing Williams over the line?

So here we are, 25 years since our last home win and I've got to say, it feels unreal saying that. I think as much as I felt in my gut that this team could do it, the history and the haters had me second guessing. After a season filled with record breaking and scandal I plan on basking in this glory.
To the haters, sorry I'm not sorry, I knew this team was special. Fellow Fans, we did it, we did it, we did it. Beloved Team, THANK YOU, you've given Chiefs fans something we've come to never expect. Mahomes is truly a rare kind of quarterback and if our D can continue to show up with this kind of ferocity I expect the post season to be filled with even more miracles.
Editor's Picks
To me, Rachel Nichols is the personification of posting a black square on Instagram.

We have become part of the problem, and aided in the the perpetuation of...