Estimated Reading Time:

11

Minutes
Howdy, y'all! Yes, it's that time of year again, where I make myself look silly (or genius) in making my weekly picks throughout the NFL season. I cannot believe football season is back and, surprisingly, we'll have a Thursday Night game this week that won't make us wish we were watching Columbo reruns instead.
I will tell you that Week 1 is ALWAYS the hardest week to make picks, simply because we have no idea what is going to happen, and preseason means absolutely nothing! I don't care that the Eagles blanked against the Browns… O.K. who am I kidding, that's PRETTY BAD.
But really, in all seriousness, preseason is kind of a joke and it pains me to see playerssuffer serious injuries in games that mean NOTHING. If anyone on the footballfield needs "practice" it's probably the referees more than anyone. I don'teven want to think about the pathetic calls that are going to be made thisseason, and as for the helmet rule, well…maybe I'll save that one for anotherday. I'd rather not have my blood pressure break the stratosphere.
As I mentioned previously, this week is always the hardest week to make picks, so Iwill certainly do my best! Alright, here we go!
Falcons at Eagles (Thursday Night @ 8:20PM ET)
Did you know in the offseason, the Eagles reworked Nick Foles' contract to include two incentives involving this Thursday Night game? According to the deal, if Foles plays 33% of the snaps, he will receive $250,000. If the Eagles win the game, Foles will receive an additional $250,000. Well, I think he will only be taking home $250,000.
Foles has been named the Week 1 starter for the Eagles, and there is no question he is more than capable of getting the job done. I do believe in Super Bowl hangovers, however, and I do believe the laundry list of Eagles injuries will have an impact on Philly in this game. Falcons win 26-20.
Steelers at Browns (Sunday @1PM ET)
Probably the best thing the Steelers did all offseason was getting rid of Todd Haley. Halle-fricking-lujah! Or should I say: HALEYlujah! Good Goddamn riddance. You have no idea how stoked I am that he is gone. When the Steelers let go of Haley I celebrated: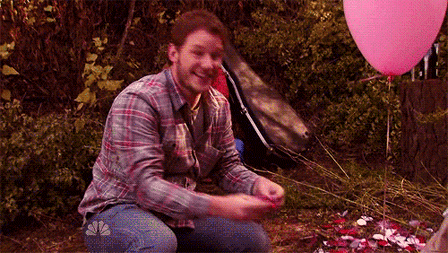 Except Ididn't have any rose petals.
But now Haley will be on the other sideline, and if I'm him, I want revenge. I would wantto stick it to the black and yellow. I'm hoping Haley doesn't have anythingridiculous up his sleeve, but then I remembered, well if he does, it willprobably result in an interception or a loss of 20 yards. Something stupid likethat because, well…you know, it's Todd F***ing Haley!
Can you tell I'm a Steelers fan by the way?
These two teams played in Cleveland on Week 1 of last season too and, if you remember, itwas damn close. If it wasn't for a blocked punt, I am pretty sure the Brownswould have had their first win of the season right then and there.
Bell is not playing this game, and while I like and trust James Conner, I just thinkpsychologically the Steelers are down right now, and this Browns team got A LOTbetter. I can assure you they will have more than zero wins, and it willprobably be much sooner rather than later, because I hate to say it, but itwill probably be this Sunday. The Browns will beat the Steelers for the firsttime since October 12, 2014. Browns win 20-17.
Bengals at Colts (Sunday @1PM ET)
Andrew Luck is back in the league, and I am happy that he is. But the man hasn't played aregular season game in 610 days. The Colts improved their offensive line, butthey still have a ways to go on the defensive end. I have to go with theBengals on this one. Bengals win 24-20.
Titans at Dolphins (Sunday @1PM ET)
If I can't be sure about Andrew Luck in Week 1, how can I be sure about Ryan Tannehill?Tannehill is another quarterback who falls into the "I haven't played a regularseason game in forever" category. I think both Tannehill and Marcus Mariotaneed good seasons this year, or else they could both be in deep water.
The difference is I'm sold on the Titans this year. I think they moved their needleforward significantly in the offseason and I think Mariota will have a betteryear. Give me the Titans on the road. Titans win 17-14.
49ers at Vikings (Sunday @1PM ET)
The loss of Jerrick McKinnon to an ACL injury is a big blow to San Francisco's offense. Therunning game may need more time to adjust, and the Vikings are just too good ofa team.
I think Kirk Cousins is going to have a BIG year. For all of you Kirk Cousins haters out there, since becoming a starter in this league, the man has statistically been a top 10 quarterback who has thrown at least 25 touchdown passes and 4,000 yards in each and every season. The only two QBS to achieve that? Phil Rivers and Matt Stafford. And Cousins did all of that with a dull running game, a coach who sort of doesn't know what he's doing, a pedestrian defense, and Jamison Crowder as his best target on the field. Now he's loaded with weapons, has a pretty damn good defense, better coaching, and a promising rookie running back coming back from injury.
I don't care what anyone says: Kirk Cousins is a goodquarterback. I know that's an awfully hard pill for many to swallow, butjust let it go. Breathe and just let it be. Just let go of the hate Cousinshaters!
2018 Most Hated Individuals inAmerica Power Ranking
DonaldTrump
KirkCousins
DonaldTrump
RogerGoodell
DonaldTrump
I mean whathas Kirk Cousins done to us? What has Kirk Cousins done to you?! Anyway, JimmyGarropolo has been undefeated as a starting quarterback for the Niners, but hewon't be much longer. Vikings win 27-21.
Texans at Patriots (Sunday @1PM ET)
Last season Deshaun Watson and the Texans came so close to beating the AFC juggernaut inWeek 3. It was that point in time when Watson started opening people's eyes.
While Houston has the defensive pieces up front who can give Brady some trouble,their secondary is very suspect. Houston was 24th in the league lastseason against the pass, and if you recall, Brady absolutely lit it up againstthe Texans throwing for 378 yards and 5 touchdowns. Brady and the Patriotsbarely held off the Texans, 36-33.
I think Houston can make New England sweat again, but a suspect secondary andpedestrian running game could hold Houston back from getting revenge on thePatriots. Also, can someone tell me who Houston's tight end is going to be?Anyone? Patriots win 30-27.
Buccaneers at Saints (Sunday @ 1PMET)
The Bucs had the worst pass defense in the league last season, and they have to face DrewBrees on the road. They travel to New Orleans without their startingquarterback available and too many questions surrounding their defense. Breeswill probably throw for 300+ yards. Saints win 34-17.
Jaguars at Giants (Sunday @1PM ET)
I want to believe that Tom Coughlin has a book hidden deep in the depths of TIAA BankField that plots a master plan to take down his former team. I want to believehe's been waiting for this moment to strike the heart of Big Blue.
This game will be closer than you think, and you can bet this will be a better Giantsteam this year. They improved that pitiful offensive line, they finally got arunning back to be excited about for the first time since probably Tiki Barber,and they currently don't have a million injuries on offense.
I just think the Jaguars defense will be too much, however. Too much for Eli, and too muchfor Saquon Barkley, who will have plenty of "welcome to the NFL" moments. ThatJaguars defense is so quick off the line, it's insane. Barkley never sawanything like this at Penn State. Prepare for a low-scoring affair. Jaguarswin 17-13.
Bills at Ravens (Sunday @ 1PM ET)
I'm sorry Bills fans. Nathan Peterman was named your starting quarterback. WatchingPeterman play quarterback is like watching Steven Seagal run, and in caseyou've never seen Steven Seagal run: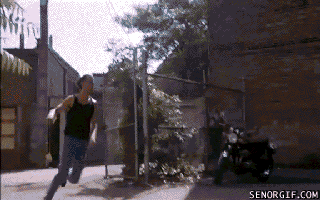 Embarrassing. Now every Bills game you watch where Peterman is under center, you'll just thinkof Steven Seagal running, and it will at least put a smile on your face. You'rewelcome Bills fans. Ravens win 28-13.
Chiefs at Chargers (Sunday @ 4:25PMET)
I am completely sold on Patrick Mahomes. I am not completely sold on the Chiefsdefense however. Meanwhile, the Chargers defense is getting better and better.
Keep your eye on rookie safety Derwin James. He could be the best rookie defensive playerthis year and a near future pro bowler. I'm not kidding, this kid can play.
I think Mahomes has a good career ahead ofhim, but this is a tough Week 1 assignment. I think the Chargers will make justenough plays on defense to pull out a victory. Chargers win 26-21.
Seahawks at Broncos (Sunday @ 4:25PMET)
Broncos could be a dark horse team this year (or dark Bronco!). I thought they had aGREAT draft, and they signed Case Keenum to be their go-to guy under center.
Could Keenum be the answer to all the recent quarterback problems John Elway has had tojuggle? He could be. I'm sort of a believer in Keenum – probably more so thanmost people to be honest. I think if you surround him with the right pieces, hecan make a team competitive as he did last season with the Vikings, going aboveand beyond expectations.
I still take Denver's defense seriously, and with Demaryius Thomas and Emmanuel Sanders,Keenum has the opportunity to pick up where he left off last season. Jake Buttcould be a promising young tight end, and people are raving about CourtlandSutton at receiver. I also think Royce Freeman could be the second-best rookierunning back behind Saquon Barkley. I am in on Royce this year.
As for the Seahawks and the myth that their offensive line "got better" – I'll believe itwhen I see it. Same goes for their running game. I'll believe it when I see it,and Seattle's defense is simply not what it used to be. Broncos win 23-17.
Redskins at Cardinals (Sunday @4:25PM ET)
The Cardinals are a piece or two away from becoming very interesting. Besides theRams, the rest of the NFC West, to me, is very wide open. The Cardinals cancertainly compete if they can stay healthy – and that's a big IF.
Any Breaking Bad fans out there? Do you remember the scene when Skyler White flips a coin atthe Four Corners Monument contemplating whether to stay or leave New Mexico?
The Four Corners Monument is a landmark that marks where the borders of New Mexico, Colorado, Nevada, and Arizona all meet.
Cardinals fans: drive out to that monument and flip a coin. Do this only if Sam Bradford goes out with a season-ending injury for the billionth time in his career, or if David Johnson goes down again. It is then when you will truly decide by where the coin lands on the quadrant whether you're a Cardinals fan 'til you die, a converted Broncos fan, a future Raiders fan, or someone who just wants to give up on football altogether. Cardinals win 20-16.
Cowboys at Panthers (Sunday @4:25PMET)
Both teams have some issues on their offensive line. But they also have defenses who can make plays and that is what it may come down to. Carolina just has to hope that Cam Newton will be ready to jump on a fumbled football. Panthers win 27-20.
Bears at Packers (Sunday Night @8:20PM ET)
This isanother game that could be closer than you think. But Aaron Rodgers is back,and he's at home under the Sunday Night lights. Rodgers has a 15-4 career recordagainst the Bears. Chicago surprisingly had a pretty solid defense last year,and they just added Khalil Mack. The Bears may not make it easy for the Pack,but I think Green Bay pulls out the win. Packers win 26-21.
Jets at Lions (Monday Night @ 7:10PMET)
Sam Darnoldgets the nod to start under center for the Jets, but it's going to be a toughfirst week assignment going on the road Monday night on national television.Lions have a respectable defense and Matthew Stafford is not going to let a rookiequarterback beat him in his house. Stafford shines against a super weak passrush and Darnold will struggle in his debut. Lions win 24-10.
Rams at Raiders (Monday Night @ 10:20PM ET)
The Raiders are just a complete mess. They traded away their only shining light on defense, and cut Martavis Bryant – which means Oakland pretty much traded that third round pick to the Steelers for nothing. Now there are rumors swirling around about potentially trading away Amari Cooper? What is going on in Oakland?!
Rememberwhen the AFC North was super competitive, and between the Steelers, Ravens, andBengals, it was anybody's division? Then there were the Browns who were on theisland of misery in the division. THAT is the AFC West this year. It's athree-horse race between the Chargers, Broncos, and Chiefs. CongratulationsOakland – you are the Cleveland Browns of the AFC West.
This will bethe biggest blowout of the week. Luckily, I will probably be asleep already atthis time. Rams win 42-17.
Enjoy the games!
Editor's Picks
To me, Rachel Nichols is the personification of posting a black square on Instagram.

We have become part of the problem, and aided in the the perpetuation of...