Estimated Reading Time:

7

Minutes
11 ranked teams lost last week, and my upset pick wasn't one of them! What a mess. Each week continues to prove that we only have two untouchable teams this season. Everyone else is upset prone. The CFP rankings are out and what a surprise, undefeated UCF moves down from 10 to 12 after their bye week. Bye Weeks are tough I guess. The biggest crime is having them ranked behind a 2 loss Florida team. Ohio State somehow is 10th after getting blown out by Purdue. It's clear UCF won't be getting respect anytime soon.
Last week my picks went 3-2 (Seems to be a trend for me) and my upset pick was thwarted on the last play of the game with 0:00 left on the clock! What?!?! Talk about bad luck with upset picks. I guess Kentucky's magic season rolls on…at least for one more week. This now puts me at 31-14 and 3-6 in upset picks. It's a new week which means new picks. Lets get it rolling!!!!!!!!!!!! It's my world you're just reading about it.
5: Pittsburgh at Virginia (25)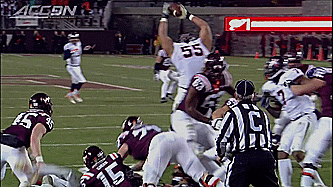 It's weird to be saying this, but Virginia and Pitt will be fighting for the top of the ACC Coastal division this weekend. With Miami's loss to Boston College, Virginia, Pitt and Va Tech are in a three way tie for the top. The Cavaliers are in the best spot to take the crown having already beaten Miami. They must capitalize this week at home to keep themselves at the top. A loss here almost certainly puts either team out of the running. This win should come fairly easy for Virginia who is better than Pitt in practically every single category. The Panthers are abysmal on defense and the Cavaliers can take advantage of that at home.
The line currently sits at -7.5, which is right where it should be for this matchup. The game is set to be played on Friday, November 2nd at 7:30pm on ESPN2.
My Prediction: Pittsburgh-17 at Virginia-34
4: West Virginia (13) at Texas (17)
This is West Virginia's chance to dance it's way to the top of the BIG 12! A three way tie sits atop the conference with Texas, OU and the Mountaineers. This game, like many others this week will provide clarity amongst the top of the conferences standings. Looking at this matchup from a statistical standpoint, West Virginia is the better team. They average 8 more points per game and allow about 5 less. The difference comes in strength of schedule. Texas has already played Oklahoma and won. West Virginia's biggest win was against Texas Tech. Both teams have bad road losses, none worse than a week one loss at Maryland by the Longhorns. To me Texas still feels a year away from winning the BIG 12 and I expect Will Grier to make a Heisman statement for the Mountaineers.
The spread currently sits at -1.5 for Texas. This could go up over the week but probably not by much. The game will be played on Saturday, November 3rd at 3:30pm on FOX.
My Prediction: West Virginia-41 at Texas-38
3: Georgia (6) at Kentucky (9)
The DAWGS are back! Kentucky keeps the magic alive! Now both teams must settle who is the best in the SEC East. I'm telling you now it's Georgia. The Bulldogs are far and away more talented than Kentucky. The Wildcats have had a magical season that could be much different than the one they're experiencing. After barely surviving at Missouri last week on a truly last second play, I expect the magic has run out. Georgia averages nearly 14 more points a game than Kentucky and more rushing yards. Something the Wildcats are supposed to be better at. The Bulldogs got destroyed on the road by LSU, but this happened last year to them against Auburn and we all saw how that turned out. Kentucky lost to Texas A&M. Not the same as losing to LSU.
The Bulldogs are favored by 9 points on the road. Vegas doesn't have much faith in the Wildcats. I happen to agree with Vegas. Kentucky is ranked way too high. The game will be played on Saturday, November 3rd at 3:30pm on CBS.
My Prediction: Georgia-42 at Kentucky-20
2: Penn State (14) at Michigan (5)
Michigan is feeling themselves at the perfect time! A lot has changed since that week 1 loss to Notre Dame. For the Wolverines the plan is simple, win and you're in. Easier said than done. This week they must host Penn State and dynamic QB Trace McSorley. The Nittany Lions stumbled after the loss to Ohio State following that up with a loss to Michigan State. They avoided disaster by winning back to back weeks against Indiana and Iowa. Michigan is not the same as Indiana and Iowa if you were wondering. The Wolverines are led by a stifling run defense and an explosive run game of their own. Much like Penn State, Michigan can punch you in the mouth with both QB and RB. The difference is Penn State is not good at stopping the run and the Maize and Blue are.
The line currently sits at -10 for Michigan which seems about right. I expect the first half to be close before the Wolverines pull away at home. The game will be played on Saturday, November 3rd at 3:45pm on ESPN.
My Prediction: Penn State-17 at Michigan-30
1: Alabama (1) at LSU (3)
Woah! The last time this game was this hyped, Alabama didn't let LSU cross the 50 yard line on offense in route to another BCS National Title. This rivalry has a long history of low scores dating back to their first meeting in 1895 where LSU won 12-6. Riveting stuff. Ok, enough about the past. LSU is without a doubt the most surprising team of this year. Now they get the chance to cement this season in the history books forever if they can upset Bama at home. The Crimson Tide have yet to be tested this season. Starting QB Tua Tagavailoa hasn't even played a snap in the fourth quarter yet. That being said, Bama hasn't faced a defense like LSU's and they have yet to play in a tough atmosphere. I have a feeling Death Valley will be very loud.
The spread currently sits at -15 for Bama. LSU hasn't been this much of an underdog at home since 1999 when they hosted the Gators. The game will be played on Saturday, November 3rd at 8:00pm on CBS.
My Prediction: Alabama-27 at LSU-23
UPSET OF THE WEEK
FSU over (21) NC State! Listen, neither team is good and this is by no means an interesting upset pick, but I need a win. Bot teams were absolutely embarrassed by Clemson on the road. NC State followed it up with another road loss to Syracuse. FSU doesn't have much to play for and that's a dangerous spot to be in for their opponents. The Seminoles will get closer to a 6 win season and bowl eligibility this weekend on the road against the Wolfpack. Also, I'm in a friends wedding this weekend who graduated from FSU, so theres that.
The spread currently sits at -7.5 for the Wolfpack at home. The game will be played on Saturday, November 3rd at 3:30pm on ABC.
My Prediction: FSU-27 at NC State-21
Editor's Picks
To me, Rachel Nichols is the personification of posting a black square on Instagram.

We have become part of the problem, and aided in the the perpetuation of...