Estimated Reading Time:

6

Minutes
RIVALRY WEEK IS UPON US! This should be a fun and entertaining weekend of College Football. I expect at least one fight to break out on the field this week. You can also look forward to some great photo-finishes. Last year, rivalry weekend gave us one of the best College Football games of the year when UCF and USF played in the "War on I-4". Make sure to clear all plans for this Saturday cause you're not gonna want to miss any of this. It's gonna be wild!
Last week my picks went 3-2 and my upset pick came through! Thanks Scott Frost. This now puts my record for 2018 at 42-18. My Upset of the Week picks sit at an abysmal 4-8. It's a new week which means new picks are coming you're way. It's my world you're just reading about it!
5: Notre Dame (3) at USC
Long gone are the days of the Bush Push and top ten meetings, but this game still means a lot to either side. USC has fallen since Pete Carroll and can't get up. Maybe they need life alert! For the Trojans a win makes them bowl eligible. For the Irish a win almost certainly puts them into the playoffs. I don't expect this game to be close but it's a primetime kickoff solely because of the long history of this bitter rivalry. Notre Dame is better in absolutely every aspect and should easily win this game by at least 2 touchdowns. Regardless, the Irish must stay focused and not overlook a USC program in desperate need of a win. Strange things happen at night in the LA Coliseum. 
The Spread currently sits at -10.5 for Notre Dame and may even go up over the week. I think Notre Dame is capable of covering and some. The game will be played on Saturday, November 24th at 8:00pm on ABC.
My Prediction: Notre Dame-49 at USC-24
4: Washington (16) at Washington State (8)
The 111th Apple Cup is the only thing standing in the way of the Cougars and a PAC 12 championship game. Something they haven't attended in 16 years! Even bigger, a chance to make their first playoff appearance. The Huskies head into this rivalry game looking for their 6th consecutive win over Washington State. Thats quite a win streak. Streaks are meant to be broken. Washington State has been leagues better than Washington this year and needs to show it this Friday. I expect Gardner Minshew to light up the scoreboard and for the Cougar defense to handle an underwhelming Huskies offense.
Washington State is currently favored by 2.5 at home. Much lower the I had expected given the Cougars success this year. The game will be played on Friday, November 23rd at 8:30pm on FOX.
My Prediction: Washington-17 at Washington State-31
3: UCF (9) at USF
The Gameday crew came and went and UCF is still undefeated. They notched their 23rd win in a row against Cincinnati last week. On top of all this, UCF jumped into the top 10 in the latest CFP poll placing in at #9! Now they must head to Tampa to take on USF in a rivalry with what might be the coolest name in College Football. THE WAR ON I-4! Last year this game lived up to it's name as UCF pulled off the win in dramatic fashion with a strip and fumble recovery to end the game 49-42. I'd love to see a nail biter this year but I just don't think it's in the cards. USF is just not the same team they were last year and UCF is firing on all cylinders.
The line currently sits at -14 for UCF on the road. Thats quite a large spread for a rivalry. The game will be played on Friday, November 23rd at 4:15pm on ESPN.
My Prediction: UCF-52 at USF-31
2: Oklahoma (6) at West Virginia (13)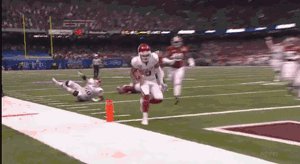 If you're a Sooner fan, this game should scare you. Oklahoma is in an interesting situation being a 1 loss team with no Conference Championship game to play in next week. Even a win at West Virginia won't guarantee a second consecutive trip to the playoffs. Oklahoma and Kyler Murray will need a statement type win against Will Grier and the Mountaineers. I'm not sure they're capable of that. The Sooners have the offense to compete with anyone but don't seem to have the defense to blow anyone out. That's a problem. Especially when they have to go on the road to face a Heisman caliber QB. This will be Will Grier's last chance to leave his mark at West Virginia. Should be an interesting Friday night in Morgantown.
Oklahoma is a 2 point favorite heading into this one which seems about right. I expect this one to come down to the wire. The game will be played on Friday, November 23rd at 8:00pm on ESPN.
My Prediction: Oklahoma-42 at West Virginia-45
1: Michigan (4) at Ohio State (10)
Jim Harbaugh has never beaten Ohio State in his four years as the Wolverines head coach. YIKES! Heck, Michigan has lost 13 of the last 14 games they've played against Ohio State. That's terrible! It's not gonna be easy to break this losing streak this weekend either. Michigan must travel to Columbus to take on Dwayne Haskins and the Buckeyes. Lucky for the Wolverines they are currently playing lights out on defense and Ohio State has fallen apart on that side of the ball. Nonetheless, rivalry games are always close and Michigan will need its best efforts to flip the script and break the losing streak in Ohio.
The Spread currently sits at -4 for Michigan. This is the first time Ohio State has been the underdog at home since 2011. The game will be played on Saturday, November 24th at 12:00pm on FOX.
My Prediction: Michigan-34 at Ohio State-28
UPSET OF THE WEEK
MIAMI OVER (24) PITT! This will be my last upset of the week pick so I gotta go with a team I've loved since I was in Elementary School. Miami hasn't had the year they expected while Pitt has. The Hurricanes will be out for revenge after last years Thanksgiving day loss to Pitt on the road. I expect a lot of Turnover Chain sightings and N'Kosi Perry to take another huge step forward en route to the upset victory.
The Game will be played on Saturday, November 24th at 3:30pm on ESPN.
My Prediction: Pitt-17 at Miami-35
Editor's Picks
To me, Rachel Nichols is the personification of posting a black square on Instagram.

We have become part of the problem, and aided in the the perpetuation of...