Estimated Reading Time:

6

Minutes
Wow! If I had to describe week 8 in one word it would be CHAOS! Devin Bush disrespected Michigan State before the coin toss even happened. Taking home the Paul Bunyan Trophy now makes the Wolverines the BIG10 team to beat. Three undefeated teams went down, including Ohio State. The Buckeyes were BLOWN OUT by a 3-3 Purdue team. UCF made a game time decision not to play All-American QB McKenzie Milton. They still won by 27! Also, The Pac 12 may have no interest in making the playoffs.
Last week my picks went 3-2 and my Upset Pick of the Week was wrong again. No surprise there. That puts me at 28-12 and 3-5 in upset picks. We are a week away from the release of the first College Playoff Committee Ranking. Let's get the picks rolling! It's my world you're just reading about it!
5: Appalachian State (25) at Georgia Southern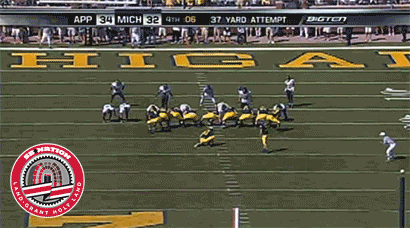 We are far removed from that fateful day in 2007 when the #5 ranked Michigan Wolverines paid App. State $400,000 to upset them in the Big House. Thats quite a power move from the small school from Boone, North Carolina. Now App. State is in the Sun Belt Conference and is a top 25 team for the first time in school history. A lot has changed, but their winning ways haven't. The Mountaineers one loss came to Penn State in overtime. They boast a high powered offense led by Sophomore QB Zac Thomas. Georgia Southern is no slouch and will push App State in a key game for the Sun Belt East crown.
The spread currently sits at -9.5 for App State. The Mountaineers offense should be too much for Georgia Southern who allows an average of 367.6 yards per game to the opposition. The game will be played on Thursday, October 25th at 7:30pm on ESPNU.
My Prediction: Appalachian State-42 at Georgia Southern-30
4: USF (21) at Houston
One of the last 5 unbeaten teams left goes on the road to conference foe Houston! The drama will be alive and well this Saturday. Last week USF survived a scare to UConn, winning 38-30, avoiding an embarrassing upset. While the Bulls were surviving, Houston was thriving. The Cougars beat Navy on the road 49-36. Both offenses are similar in terms of yards per game, however Houston averages over 10 more points per game. Neither defense is anything to write home about. I don't have faith in USF on the road.
The line sits at -8 for Houston. This will probably go down throughout the week. The game will be played on Saturday, October 27th at 3:30pm on ABC.
My Prediction: USF-45 at Houston-49
3: Iowa (18) at Penn State (17)
If you get excited over defensive stops on 3rd and 2 ending in a 20-21 finish, then this is the game for you. At least these two teams are ranked. On top of that, Iowa is locked in a three way tie for the Big Ten West crown. This would be a huge win for the Hawkeyes. The most confusing part about this matchup is how a one loss Iowa team is ranked behind a two loss Penn State team. Penn State relies heavily on the run and Iowa holds teams to an average of only 79.6 rushing yards per game. Good Luck, Nittany Lions. Beaver Stadium is no longer as scary as it was three weeks ago.
The spread now sits at -6 for the Nittany Lions. If this spread doesn't go down over the week I'll be surprised. The game will be played on Saturday, October 27th at 3:30pm on ESPN.
My Prediction: (See 2nd line of 1st paragraph) Iowa-21 at Penn State-20
2: Washington State (14) at Stanford (24)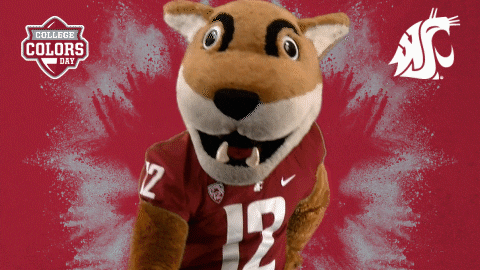 Here we go again! I'm getting real sick of the PAC 12 and this carousel of "Playoff Contenders". Gardner Minshew's mustache took centerstage last weekend as the Cougars took down Oregon in their first Gameday appearance. Seriously his mustache is awesome. You know what else is awesome? His stats. Minshew boasts 23 TDs to only 8 INTs with 2,745 yards. Wow! Guess what isn't awesome? Stanford's pass defense. Well, really Stanford in general. Home game or not, Stanford really doesn't have a great shot at slowing down the Cougars offense.
The line currently sits at -2.5 for Stanford, which is laughable. That will go down or change to favor the Cougs as the week goes on. The game will be played on Saturday, October 27th at 7:00pm on FOX.
My Prediction: Washington State-49 at Stanford-31
1: Florida (9) vs Georgia (7)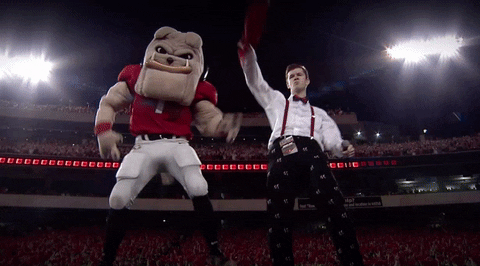 It doesn't get better than a top ten SEC rivalry on a neutral field! This game should be the most viewed of the weekend and for good reason. It's hard to analyze these teams, specifically Georgia. The Bulldogs have only faced two ranked opponents. Only one that counts, LSU, whom they lost to. Coincidentally, The Gators played that same team and won. These two squads are pretty evenly matched statistically speaking. The difference to me is the adversity they've gone through. Florida's only loss came to a very talented Kentucky team. The Gators have quality wins on the road against a ranked Miss State and at home against now #5 LSU. Georgia must bounce back this week to keep playoff hopes alive. Whoever wins this will be the favorite to win the SEC East.
The line currently sits at -6.5 for Georgia. It's hard to say if it will go down at all. If it were up to me, it would. The game will be played on Saturday, October 27th at 3:30pm on CBS.
My Prediction: Florida-28 at Georgia-30
UPSET OF THE WEEK
MIZZOU over (12) KENTUCKY! Kentucky has had a season made of dreams. It will all come crashing down at Missouri on Saturday. It's simple for me. Drew Lock is an elite QB leading a passing attack that averages 301 yards per game. Kentucky's weakness is it's passing defense. If the Wildcats get into a shootout with the Tigers of Mizzou, they won't win. This is the type of game Drew can use to shoot up draft boards.
The spread currently sits at -6.5 for Mizzou. The game will be played on Saturday, October 27th at 4:00pm on the SEC Network.
My Prediction: Kentucky-28 at Missouri-34
Editor's Picks
To me, Rachel Nichols is the personification of posting a black square on Instagram.

We have become part of the problem, and aided in the the perpetuation of...