Estimated Reading Time:

7

Minutes
Alright everyone, it's Sunday Morning which means it's time for some musings. This week, there were a lot of licks, and The Turf writers had some thoughts, so without further ado, let's get to it!
If you can't beat 'em, lick 'em.
I've had a tough time understanding how I feel about Brad Marchand and his head game tactic of licking his opponent's faces. On the one hand I think it's solidly gross, on the other I think it's kind of genius? Has anyone watched the reactions to it? If you're trying to get in the heads of hyper-masculine athletes, Marchand has given you the playbook. Lick them.
Gross. If someone licks me at random, I'm not entirely sure how I would react. However you know who's great to watch react to it? Toxic Masculinity. Here are some gem quotes.
Jets forward Adam Lowry on what he would do if licked by Marchand, "Probably punch him in the face". Given that that's probably what Marchand wants, I'd say not a great reaction. As for Jets coach Paul Maurice?
"It gives me the willies."
How's about this one from former NHL player Brandon Prust who was fined $5,000 once for spearing Marchand:
The thing is, I think what Marchand's doing is gross, disrespectful, and should stop. But I kind of admire it. When I was in high school, homophobia was the name of the game in varsity athletics. So I would tell opponents they had a nice butt. Or during my senior year, that I was going to college for Musical Theatre. I would buy myself an extra three feet of space every time. I don't think I could bring myself to lick them, though. Regardless of the disrespect, imagine how gross a hockey player's face is mid-game.
Turf Writer Michael Patrick Trimm had only this to say on the matter:
?
No Kyrie? No problem.
I wrote a couple articles about how it was time to take the 76ers seriously, and I still mean it. This team is young, scrappy, and fights to the finish. However with the Celtics up 3-0 right now, now we need to talk about the Celtics. At the beginning of the season, the Celtics made a huge splash with the signing of Kyrie Irving and Gordon Hayward. Then they lost Hayward to a gruesome ankle injury in the first five minutes of the season, which many pundits said sank their chances. Then Kyrie went out for season ending surgery a month ago. That should have been the nail in the coffin. Yet they're up 3-0 on the red-hot 76ers and looking cool while doing it.
[media-credit name="Nelson Chenault / USA TODAY Sports" align="aligncenter" width="1820″][/media-credit]
It can be argued that the C's stole the win in Philly to go up 3. However I'd argue Philly had it coming after firing off the victory confetti on a shot that turned out to only tie the game and send it to OT. That shot, however, was absurd. I mean absolutely obscenely great. What wasn't great was this:
C'mon Philly. Not like this. Not like this.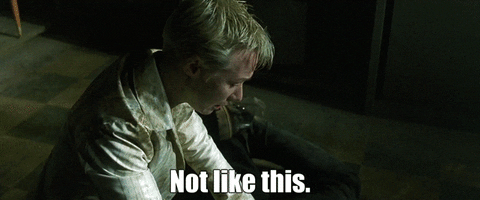 Some really great journalism lead us to find the guy responsible:
That shirt right there? That's gold. You couldn't write this comedy. Especially because it turns out he did care…
The Celtics story is fantastic, but the saga of Confetti guy should go down in "how not to be" history. Never change Confetti guy, because my Celtics are now up 3-0.
In the words of Turf Writer Andrew Wilhelm?
Philly dropping the confetti Early is a perfect metaphor of this series.
What exactly constitutes an illegal hit?
This section might be a little brutal, but Michael Patrick Trimm has feelings I want to dig into.
You have the same player Tom Wilson give the same headshot in back to back games with one receiving no hearing or suspension the second receiving both hearing and a three-game suspension. Then the very next game one of his teammates, TJ Oshie, give us an even worse headshot with again no hearing and no suspension. It feels like the department of player safety is literally Asking a magic eight ball whether hits are illegal or not.
Here's the brutal part, I want to look at all three hits.
Tom Wilson First Hit:
Tom Wilson Second Hit:
TJ Oshie Hit:
Okay, so hit by hit. The first one from Tom Wilson was high, no question However Dumoulin was crouched over, do we know if Wilson specifically targeted the head or if we have a case of heigh disparity at the wrong time? I don't know. You couple that with the hit from Ovechkin and it's easy to see why Dumoulin ended up on the ice. But hearing/suspension worthy? To be honest I don't know.
The second hit feels cut and dry to me. Sure you have a similar situation of Aston Reese being lower going into the hit, but Wilson not only rises his shoulder up and into the face of Aston Reese, but he actually does so with enough force to come off the ice and land in his bench. Absolutely a hit deserving of a suspension.
The third hit, I don't know. It was a forecheck, and as Letang said "it was an emotional game". To me that doesn't look like an attempt to injure. I don't think Oshie should be suspended for that, frankly. However this last one brings me back to a question I've been wondering about for a while. When do these sorts of things become assault? Hockey feels less cut and dry since fighting is encouraged by everyone. But in baseball? If I charge a guy in my office who's being an asshole I get arrested. Why do athletes get to throw punches in games where punches have no reason to be there?
A brief pause for a story to hit you in the feels
A Transgender man was honored at a high school sports Hall of Fame ceremony in Florida, and the story is just beautiful. He was a sports star in the 1970s, he announced himself a Transgender man four years ago. Here's a quote from the story I find particularly beautiful:
Then known as Jennie McKnight while competing in basketball, softball and volleyball in the 1970s, McKnight told a rapt audience how grateful he was that the "flow of history" gave girls a chance to compete after the passage of the anti-discrimination law Title IX.

And now he has "gratitude that the flow of history allowed me to show up here as I am," McKnight said.
Take a second, head over here, and check it out.
In Summation
There were more stories this week, but for me they were all Boston related and I wanted to spare you guys my fandom coursing through. Suffice it to say, Mookie Betts for President.
Editor's Picks
To me, Rachel Nichols is the personification of posting a black square on Instagram.

We have become part of the problem, and aided in the the perpetuation of...