Estimated Reading Time:

4

Minutes
Welcome back to Sunday Morning (Afternoon) Musings! I'm your host, Ned Donovan, and along with the other Turf Writers we're here to talk about all the things happening in sports that don't quite warrant a full article. There were quite a few happenings this week, and I'm so ready to dig into them. Here we go!
Katie Pierce: We're in 2018 while Poppovich is out here in 3018.
As seasons wind down, odd decisions are made either due to resting players, or because of injuries, or simply because that's how the matchups shake out. Well Gregg Popovich was asked how in the hell Danny Green is going to guard Kevin Durant tomorrow night (a question I think we all have), and Pop answered as only Pop can.
From all of here at ESPN 8 The Ocho, I think we're in agreement: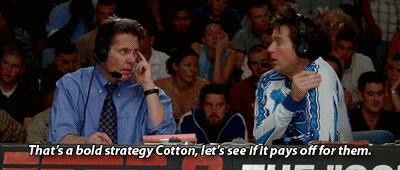 Andrew Wilhelm: Friday the 13th got weird
Speaking of bold strategies, let's look at this bit of strategery from Pirates catcher Elías Díaz in their Friday the 13th matchup against the Marlins.
Sometimes you just need to help a team having a rough start to their season a couple of runs. I'm assuming that was Díaz's thought as he launched the equivalent of a 2 run double to the warning track on behalf of the Marlins. When asked later, Pirates manager Clint Hurdle had this to say:
We left the door open and they ran through it like major league teams do
Someone should remind the Marlins that they are, in fact, a major league team. We should also remind them that tax evasion through domicile lying is a crime. One of my first articles for The Turf (and that one that I'm most proud of) was about my lack of respect for the Marlins management. Since the changing of the guard it looks like not much has actually changed.
The Super Bowl Champions can't catch a break
In my first Sunday Morning Musings I wrote about Michael Bennett's legal issues being a distraction to the Eagles. Well we can add new Cornerback Daryl Worley to that list. NFL Network reported that Worley was combative with police, leading to him getting tased as part of his arrest. ESPN reports that he was found passed out in his vehicle, but no official reports from the police as of yet. The Eagles have announced that they are monitoring the situation.
Justin Colombo: Hockey comes to Major League Baseball
Every year we have the Winter Classic, which is always a fun day in hockey, but in the beginnings of the MLB season, we've seen another aspect of Hockey entering the ballparks.
I have a question that I always wonder when it comes to sports. When does it become assault? Like, in my profession, if I punch someone from a rival company, I get arrested on assault charges. Do those exist? How is it that thrown fists is a part of athletics in which there is no physical contact? The next question being, don't we all get paid enough to not get suspended? I say we in the royal sense, because I certainly don't get paid enough. *cough* *cough* JustinColomboGiveMeARaise *cough*. Man, that was weird, I got something caught in my throat.
It really is time to talk about the Philadelphia 76ers
I won't rehash the article I wrote last week but the moral of the story is this: Trust the Process. The 76ers are here, they're young, they're hungry, and they have announced themselves in a big way following their 130-103 rout of the Miami Heat. Ben Simmons is a stud, J.J. Redick is playing like a league MVP, this team is dangerous. They are red hot at the right time to make a surprise run to win it all. If it works, someone owes Sam Hinkie an apology (and maybe his job back).
Editor's Picks
To me, Rachel Nichols is the personification of posting a black square on Instagram.

We have become part of the problem, and aided in the the perpetuation of...