Estimated Reading Time:

8

Minutes
We're here, we're back. We missed last week due to Mother's Day but that just gives us more fodder for the musings! The NHL and NBA finals are in full swing, we've got weird things happening in the off-season of the NFL, and the World Cup is right around the corner. Oh and Big Sexy is just being Big Sexy. Seriously, what did we do to deserve Bartolo Colon? So without further ado, here are your Sunday Morning Musings.
Let me reiterate, we don't deserve Big Sexy a.k.a. Bartolo Colon
Bartolo Colon is a national treasure. He's still a solid pitcher, he loves the game, and he brings such joy to the diamond. Also this.
44-year-old Bartolo Colon threw a beauty of a pitch which was rebounded directly into his gut. He not only took the hit like a champion, he calmly fielded the ball, and threw the batter out at first base. When asked later about it he told reporters that it was more on his side than his gut, but "it's okay, I have a lot of belly." God bless Big Sexy.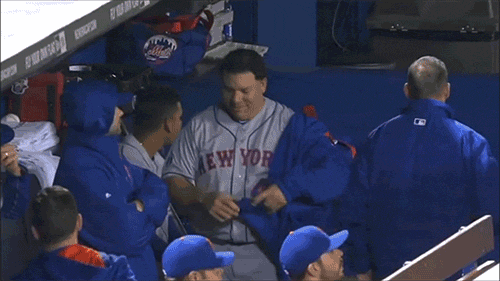 The Supreme Court changes the game on Sports Gambling
I was working on something smart and witty to say about the Supreme Court decision to strike down PASPA, but my colleague Matt DaSilva went and wrote something elegant and beautiful, so I'll let him say it.
It was a cloudy Monday morning; one of those gray days where it isn't quite cold, isn't really warm, and you're not sure if it's going to rain or if you're going to start sweating because the humidity is sorta stifling and to be honest, you sweat pretty easily. You were groggy. Had been up earlier than normal to make a 9AM appointment that was subsequently cancelled by the doctor, and your first cup of coffee had thoroughly worn off. So you're walking around midtown, killing time before your next thing, deciding to try this whole matcha latte thing because even though you generally abhor trendy drinks, matcha has now been around long enough for you to relent it may not be a trend, and you should be more open-minded about this stuff, really.
So you're waiting for your matcha latte, snacking on a spiced pear scone, when your phone goes off. It's more intense than a typical email or text vibration, but you're not concerned or anything, because honestly, there have been so many damn breaking news alerts in the last 18 months that you're sorta used to this type of thing; a commonplace intensity. So you pull out your phone, look down at the screen and then, it's there:
Straight from the grey lady – all the news that's fit to print! – and then from ESPN, and then a Twitter alert, and then the barrage of text messages from friends rejoicing, wondering what this means for the future, and finally seeing a glimmer of a world in which we can come out of hiding, step away from shady websites based in Eastern European countries, and place our wagers in broad daylight, with our hard-earned, full faith and credit of the US government-backed, greenbacks.
A smile comes to your face. The barista calls our your name, but you don't hear it the first time. So he calls it out a little louder – not yelling at you – he's not annoyed, who could be on a day like today? – but just enough to grab your attention. You look up, see a barista holding out a gorgeous green concoction with a white design in it. And you can't tell from 10 feet away, but you're pretty sure this maven of matcha has drawn a white George Washington silhouette in your green matcha latte, and you smile, because this barista knows.
And then you get your latte and you realize it's a floral design, not a homage to the dollar bill, and yet you still smile, because the sun has started to come out, and just as the flowers emerge from a cloudy weekend, you emerge with your new favorite coffee-alternate-beverage, head held high, mind full of money line parlays, three team teasers, over-unders, and possibility.
There's gold in them hills. Get ready.
OBJ goes deep
Blake Snell invited Odell Beckham Jr. to the Devil Rays game. OBJ took some batting practice, and, well, just take a look for yourself:
Yep, that's OBJ going deep. Athletes are athletes and we shouldn't be surprised when they're good at doing something athletic, but still this is impressive. Turf Writer Andrew Wilhelm brought up an interesting point:
Which makes me wonder if WR's are naturally predisposed to be good sluggers. Megatron used to do this all the time in Detroit.

And I'm all about that throwback jersey.
He's right, that's a damned good throwback. A+.
Should we care about PEDs?
Robinson Cano is Hall of Fame bound. He is also suspended for 80 games for testing positive for Furosemide, a diuretic no one had heard of before now. There are those that say these kinds of suspensions are good for the game. They keep the playing field level and the history books clean. This way (supposedly) we know that when you compare the batting statistics between two players across decades, the only advancements we're looking at are in the advancements of training. This, of course, is bullshit.
Beyond the amount of money in the game which allows players to have an army of personal trainers, dietitians, and recovery therapists, there have been incredible advancements in equipment as well. The padding that covers knees, and elbows preserves those joints. We're not using bats from the 1940s either. It's comparing apples and oranges. In fact I'd argue it's athletically more impressive to see a Ted Williams crush a home run given he'd probably had a breakfast of bacon, grits, and scotch. So with all that in mind, should we care about Cano's PED use? I actually think so. As much as we can we should look at what people were able to accomplish naturally with obvious caveats for the available training/equipment. Andrew O'Neill? He's of another mind.
I want to know more about a PED-user like Robinson Cano. What was he taking? Is it definitively bad for you? As a baseball fan, I wonder why things like HGH can't just be allowed; like what's so bad about these substances that help guys recover faster and allow them to play 150-160 games every season? And if a guy is making $30 mil/year and we are paying such high ticket prices shouldn't it be the highest priority for guys to actually play? Who gets cheated more: the history books of baseball or the fans who have tickets to one of the next 80 Mariners games? As a fan, if he's been taking something that more than anything just allows him to play everyday, I say bravo. But also bravo to the irony of him being suspended 80 games for doing so.
I think I disagree with Andrew's assessment, and I see a full-length article coming soon. If someone tells me that Bartolo Colon is juicing, I'll weep ugly tears. No one come for Big Sexy, leave him alone.
Lebron James is out of this world.
Last night's game was brutal to watch as a Celitcs fan. Down by 20 at the half, and my team looking flat the entire game. Whereas you have Lebron and the Cavs dropping 3s all over the court, and generally tearing it up. Look, there is no question that Lebron is a once in a lifetime talent. Just look at this:
or this:
Then the NBA Twitter account decided we need to see that last one again, but slower, and more agonizing for me:
And I literally don't even understand the physics of this one:
We don't deserve Big Sexy, but we should all be happy to be alive and watching Lebron James play. With that being said, the Celtics have proved themselves time and time again. This is not the new normal, they're going to the finals.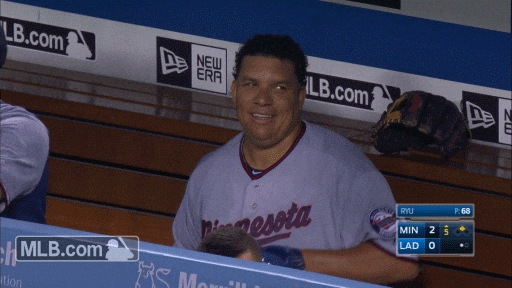 Editor's Picks
To me, Rachel Nichols is the personification of posting a black square on Instagram.

We have become part of the problem, and aided in the the perpetuation of...